Duke in Pictures: Tricia Rose at Reggie Howard Day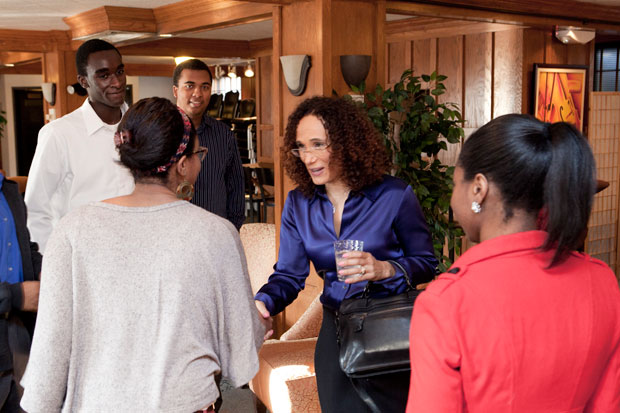 Tricia Rose, professor of Africana studies at Brown University, speaks with Reggie Howard Scholars at a reception in the Mary Lou Williams Center for Black Culture Thursday.
Well-known for her groundbreaking book on the emergence of hip hop culture, "Black Noise: Rap Music and Black Culture in Contemporary America," Rose discussed inequities in higher education.  She said that while certain measures such as enrollment present an outward appearance of equality of educational opportunity, inequalities remains prominent throughout the educational system.
The talk was part of "Reggie Day," a day of events in which the Reginaldo Howard Memorial Scholars explore social, political, and academic issues pertinent to students of African descent.
The scholarship is given to first-year students of African heritage who demonstrate outstanding leadership ability, scholastic achievement, community involvement and evidence of serious commitment to a life of service to others. The scholarship's namesake, Reginaldo Howard, was the first black student at Duke to be elected student body president, but he passed away before serving his term.
Photo by Les Todd/Duke University Photography