A Piece of the American Dream
New program for eligible Duke employees to help pay up to $50,000 of home purchase
Duke University and Health System employees who meet certain income requirements and have at least five years of continuous service will be eligible to buy a new home as part of a housing initiative in Durham's Southside neighborhood.
Duke is partnering with the city of Durham and local agencies to redevelop the Southside neighborhood south of downtown. Duke employees who are eligible can qualify for loans and incentives that will cover up to $50,000 to purchase one of the 10 houses that are part of the initial project development.
Read More
The Southside neighborhood revitalization project will feature new three and four bedroom houses within walking distance of the American Tobacco Campus, the Durham Bulls Athletic Park and the Durham Performing Arts Center.
"This program represents a wonderful opportunity for some of our employees on limited incomes to realize the dream of homeownership, and we're excited to be a part of helping make that happen," said Phail Wynn Jr., Duke's vice president for Durham and Regional Affairs.  
The initiatives includes a $10,000 forgivable loan from Duke and other assistance for employees who have worked continuously at Duke for at least five years and have an income less than 115 percent of the area median income (see table below). This loan, forgiven over five years, will be for a down payment or closing costs and is not restricted to first-time homeowners.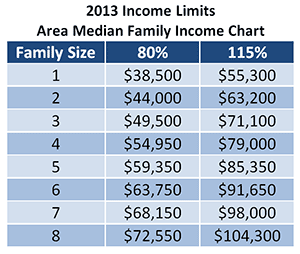 Employees making 80 percent of the area median income or less will qualify for additional subsidies and assistance, which could total as much as $50,000.
Duke will host information sessions during the weeks of March 25 and April 1 for employees interested in learning more about the program. Eligible employees may drop off a General Interest Form to Duke Human Resources beginning April 10, 2013. All forms will be received and processed on a first come, first served basis. Forms submitted before April 10 will not be considered. Human Resources will verify an employee's continuous service and salary before passing along the forms to officials with the City of Durham and local agencies for consideration in the program.
Wynn said that the program is unique among colleges and universities.
"There are schools that offer housing assistance for faculty, but this is the only one I know of that is working directly with employees to make housing more affordable," he said.
The city of Durham is also creating a series of other incentives and a consortium of lenders who can offer competitive mortgages. In addition, buyers could be eligible for state housing assistance.
"There is quite a menu of options available, depending on each individual's circumstances," Wynn said. "We want to make sure people understand exactly what is being offered and how they can find out what is applicable to them."
Information Sessions
DayDateTimeLocationTuesdayMarch 2610 a.m.Smith Warehouse, Training Room (Bay 1)WednesdayMarch, 273 p.m.East Union Bldg. (Upper East Side)ThursdayMarch 2810 a.m.Smith Warehouse, Training Room (Bay 1)ThursdayMarch 283 p.m.West Union Bldg. (Room 02 in the LGBT Center)TuesdayApril 23 p.m.Duke Clinic, Medical Center Board Room