Celebrate Earth Month at Duke
Celebrate Earth Day all month with over 20 environmental events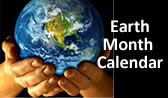 There are plenty of ways to celebrate Earth Day throughout the month of April at Duke.  Events include the Duke Forest's Pine Cone Pacer, an Earth Day celebration at the Nicholas School, and a Tour de Food at Duke.
Celebrate Duke's commitment to sustainability with events like a bike-powered concert during Earth Hour.  Reduce waste by crafting with the Scrap Exchange and attending the Clothing Swap.  Learn to brew your own beer in the Basic Beer Brewing Workshop hosted by the Duke Campus Farm.
View the full Earth Month Calendar compiled by Sustainable Duke.  If you would like to add an environmental event to the calendar, e-mail sustainability@duke.edu.