Duke in Pictures: Citizens' Police Academy Graduation
18 employees complete Duke's campus safety training program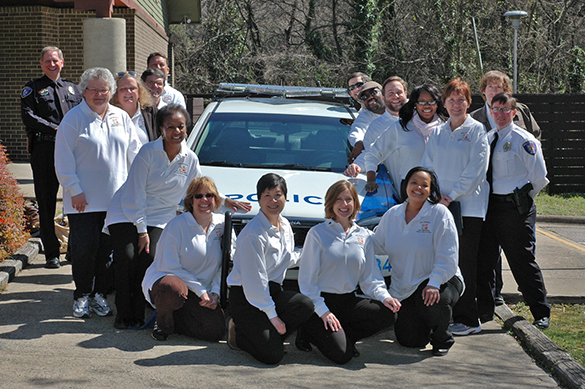 Members of the inaugural class of the Citizens' Police Academy. Photo courtesy of Duke Police.
When he was in fifth grade, Steve Misuraca wanted to be a police officer when he grew up.
While his career path led him to the Fuqua School of Business as associate director for admissions, he's still had the chance to live out some of his childhood dreams. This week, Misuraca, along with 17 other staff from across Duke, completed Duke Police's inaugural Citizens' Police Academy, a 10-week, hands-on crime prevention program for Duke community members.
During the course of four evening classes and one morning session, participants learned firearm safety, crime scene investigation and how to react to emergency situations.
"It was a great opportunity to build relationships and provide insight into some things we take for granted," Misuraca said. "Campus safety is something we often don't think about until something bad happens, and this gave me a lot of respect and appreciation for the work Duke Police does."
The group of academy participants celebrated their graduation March 14, but the class has the chance to get together three more times this summer, said Eric Hester, crime prevention officer with Duke Police. Optional group meetings will include a continued focus on campus safety and a trip to the new Durham courthouse.
"The Academy gives our community an opportunity to see what law enforcement training is really like," Hester said. "But the things I really appreciated were the friendships and networking among the folks in our group who never met before. It was a new way to see Duke community members and the police department."
The next class of the Citizens' Police Academy is scheduled for the 2013 fall semester. Interested Duke community members can contact Eric Hester via email for more information.
Here are the graduates of the first Citizens' Police Academy:
Li-Chen Chin, Duke director of intercultural programs
Debra Georgas, chief radiation therapist, Radiation Oncology
Anne Guyton, staff specialist, Duke Cancer Institute
Jane Halpin, sponsored programs senior specialist, School of Nursing
Deona Hatley, residence coordinator, Housing, Dining and Residential Life
Bob Hickman, safety specialist, Duke Clinical Research Institute
Melissa King, pharmacy manager, Pharmacy Administration
Todd Leovic, business manager, Department of Immunology
Patricia Marson, executive assistant to Kyle Cavanaugh, vice president of administration
Steve Misuraca, associate director for admissions, Fuqua School of Business
Erin Nettifee, analyst, Student Computing & Support
Antoinette Parker, director of communications, Duke Hospital
Jacqueline Pollmiller, accounting supervisor, Corporate Tax Reporting & Services
Maxine Sanders, senior international student/scholar advisor, Duke Visa Services
Byron Turner, staff assistant, Intercultural Initiatives
Scott Wooldridge, clerk, Duke Clinical Research Institute
Jeremy Yoskowitz, rabbi, Jewish Life at Duke
Mary Anne Zabrycki, strategic service associate for safety, Duke Cancer Institute