Take Five: Increasing Workplace Productivity
From making lists to taking breaks, work efficiencies improve attention
Social media. Email. Meetings.
There can be many responsibilities and distractions during a workday, but what do you do when it's overwhelming and time to get down to business? Minimizing procrastination is one step, but there are other ways like website blockers to increase your workday productivity, even if they aren't of the one-size-fits-all mold.
Read More
"It's about finding what works for you individually," said Wendy Hamilton Hoelscher, team leader for Learning and Organization Development. "There are different ways of work style for everyone, whether you like organization and structure or the idea of multitasking."
While finding the secret to productivity may be different for everyone, here are some ways you can try to enhance your workday.
An app for that
Don't let the Internet hold you back. Popular web browsers have add-ons that can to block websites identified by the user. That way, you can minimize distractions and find more time to respond to emails.
Popular browser options include "Block Site" for Firefox, "Stay Focused" for Chrome and "Website Block" for Explorer.
Be prepared for surprises
There are regular tasks Caroline Flinn deals with on a weekly basis, like filing purchase orders or checking financial records of Sarah P. Duke Gardens. But when unexpected correspondence or coordinating a last-minute meeting comes her way, she practices a tried-and-true method to ensure the task gets done without interfering with her everyday responsibilities.
"I like using Outlook by either adding an item to my calendar or adding it as a `to do' task," said Flinn, administrative assistant to the Gardens' director, Bill LeFevre. "It's like a little reminder when I need to start thinking about that new task again while not bothering me from my daily duties."
Here are some other tips to increase productivity with Outlook.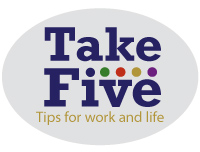 Avoid `micro' starts and stops ...
Hamilton Hoelscher noted common problems that can sap workday productivity stem from too much multitasking. While working on several projects at once may be ideal for some, she said that sometimes it's important to simply take a task from start to finish in one swoop. A to-do list may help.
"It could be a very quick break or a couple of minutes, but when you start and stop, you're missing time and resetting your cognitive function," Hamilton Hoelscher said.
... But don't be afraid to wait
Not every piece of work needs to be completed in one day. Stepping away from an unfinished project at the end of the day can allow for time to think of new ideas and recharge.
"Sometimes when you work really hard, you grind and feel like you're not getting anything done," Hamilton Hoelscher said. "You may be better off walking away and giving yourself a break to clear your head."
Take breaks
Liz Grabosky, fitness manager with LIVE FOR LIFE, Duke's employee wellness program, noted that brief periods of physical activity during the work day helps reduce stress and tension.
"Getting up and moving around for a few minutes will help to refresh your mind and can improve your health," she said.
Faculty and staff can try a program like Take Ten which offers rewards for logging steps. If you work better with peace and quiet, you could also adjust your lunch schedule around others. Instead of eating at noon like everyone else, eat earlier or later to take advantage of a quiet office and downtime from email or phone calls.