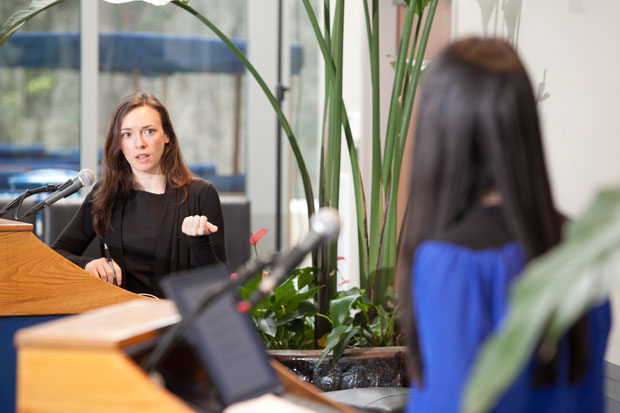 Social entrepreneur Jessica Jackley, left, contemplates a presentation from Duke junior and ChangeEducate president Katie Guidera.
Jackley, cofounder and former CMO of the peer-to-peer microlending website KiVA, spoke this past Thursday at the third Duke Colloquium. Jackley discussed how she forged her own path into entrepreneurship and recounted her experience working in the public, nonprofit and private sectors.
"If you choose an entrepreneurial path ... you're not confined — the path is yours to create everyday," Jackley told students.
After responding to presentations from several Duke-grown social ventures, including The Monday Life and Centre Liberte Farendé, Jackley answered questions from student panelists and the audience. Many asked about the intersections of business and social goodwill, to which Jackley replied that the two were not incompatible.  She added that reconciling both would become increasingly important in the changing entrepreneurial landscape.
"Those lines we have drawn between for-profit and not-for-profit are blurring," she said.  "The way people expect socially conscious organizations to behave will change."
The next Duke Colloquium will feature Dr. Brian Goldman this April. For details, visit colloquium.duke.edu.
Photo by Les Todd/Duke University Photography