Kyle Cavanaugh Named TIAA-CREF Institute Fellow
Fellows program examines issues of lifelong financial security and higher education
Kyle Cavanaugh, vice president for administration at Duke University, has been named a TIAA-CREF Institute Fellow. 
Cavanaugh, who joined Duke in 2009, will be one of 61 Institute Fellows, joining others who are considered to be thought leaders in the topics of higher education, financial planning and retirement. The TIAA-CREF Institute brings these Fellows together to examine strategic issues, conduct objective research and help inform decision-making relevant to lifelong financial security and the business of higher education.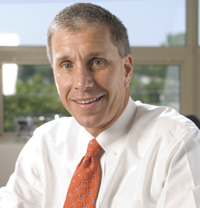 Kyle Cavanaugh, vice president for administration
"Being appointed to the Fellows Program is an honor and will allow me to be directly involved with leaders across higher education in looking objectively at some of our most challenging issues," he said.
 TIAA-CREF is a financial services company dedicated to serving the retirement needs of those in the academic, medical government, cultural and research fields. Membership in the TIAA-CREF Institute Fellows Programs is by invitation and limited to prominent scholars and senior higher education leaders. 
Fellows, who have interests in research and policy issues, conduct research and share expertise and help the TIAA-CREF Institute identify issues and opportunities in areas such as retirement patterns and retirement planning, saving, attitudes and behaviors. Fellows serve a minimum of two years.
As vice president for administration at Duke, Cavanaugh oversees Human Resources, Parking and Transportation, Duke Police and Disability Management. He also serves as the university's Emergency Coordinator. Before coming to Duke he held positions in human resources at the University of Florida, The University of Texas at Austin, Rice University and Vanderbilt University.
Cavanaugh is the second person from Duke to become a TIAA-CREF Institute Fellow, joining Professor Charles Clotfelter, director of the Center for the Study of Philanthropy & Voluntarism at Duke.