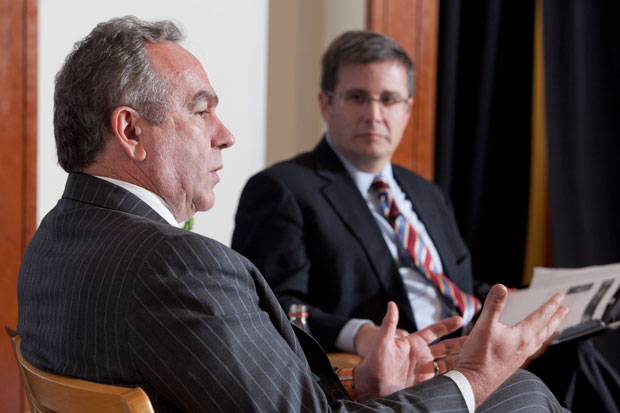 Kurt Campbell, assistant secretary of state for East Asian and Pacific Affairs, discusses "The Future of American Power in the Asia-Pacific" Wednesday at the Sanford School of Public Policy.
Interviewed by Duke Professor Peter Feaver, right, Campbell discussed the Chinese challenge to American influence in the Pacific.  But he also raised issues that aren't getting as much attention, such as the effects of climate change and rising ocean levels on the millions of people living in Pacific islands and archipelagos.
Campbell was named to the position in 2009.  Previously, he has served in several capacities in government, including as deputy assistant secretary of defense for Asia and the Pacific, a director on the National Security Council Staff, deputy special counselor to the president for NAFTA in the White House, and White House fellow at the Department of the Treasury.
The event was sponsored by the Von der Heyden Fellows Program Endowed Lecture Series and the Duke Program in American Grand Strategy.
Photo by Les Todd/Duke University Photography