First Thursday Events Offer Deeper Connection to Art
Nasher Museum of Art hosts free programs on first Thursdays
Margarita Rosa's daughter, Malena, sat on the museum floor, sketching flowers from Henri Matisse's impressionistic "Bouquet of Dahlias and White Book." 
Nearby, William Parker balanced a sketchbook on his knee and shaded the paper, copying lush greenery of "In the Grove" by Theodore Robinson. 
Read More
They were among patrons exploring art through sketching as part of the Nasher Museum of Art's monthly "First Thursday" event, which is open to everyone at no charge. 
"My wife and I visited the Matisse exhibit last week, and she loved the Robinson painting," said Parker, an associate professor of surgical sciences at Duke. "I knew I had to try drawing it, even though I wasn't sure I could do it."
The Nasher Museum of Art hosts a free special activity like a movie or talk related to exhibits at the museum on the first Thursday of each month. Museum admission is free, as it is every Thursday, but patrons must purchase tickets if they wish to enter a special exhibit such as "Collecting Matisse and Modern Masters: The Cone Sisters of Baltimore," which closes Feb. 10. (Listen below to a new Duke Today podcast about the exhibit.) 
"We want to invite people to explore the museum and art and have fun doing it," said Juline Chevalier, the Nasher Museum's curator of education.
The next First Thursday event is Feb. 7 featuring a gallery talk "In Vino Veritas" about the history and culture of wine in classical Greece by Carla Antonaccio, chair and professor in Duke's Department of Classical Studies. Patrons with tickets to the Matisse exhibit may participate in a free wine tasting.
During the First Thursday event in January, nearly two-dozen patrons gathered at the museum for "Sketching in the Galleries." 
The evening began at 5:30 p.m. with complimentary hors d'oeuvres, cash bar and opportunity for visitors to create a still life display and sketch it with paper and pencils provided. At 6:30 p.m., Chevalier and Elizabeth Lyle, a local art teacher, gathered interested patrons and invited them to sketch from masterpieces in the galleries.
"We are inviting people to try their hand at sketching because when you look at a piece of art to try and sketch it, you look longer and see it differently," Chevalier said.
Margarita Rosa, a lab technician at Duke, brought her 6-year-old daughter, Malena, to the event. She and her daughter visited the galleries and Rosa watched as her daughter filled a notepad with sketches of paintings, sculptures and a single, shiny red shoe.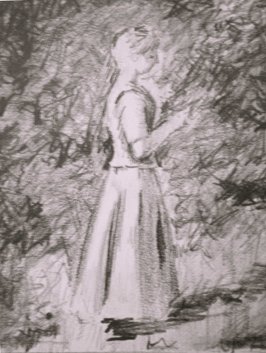 Sketch by William Parker of "In the Grove" by Theodore Robinson.
"I really enjoyed watching my daughter have so much fun," Rosa said. "We stayed until the very end."
Parker, the associate professor of surgical sciences, sketched for 30 minutes. Relying on art techniques from high school and an appreciation for line and artistic form he developed as an amateur blacksmith, he captured the curve of the woman's neck and the highlights on the leaves in Robinson's "In the Grove." 
When he returned home that evening, Parker presented the sketch to his wife, Susanne, who flashed a wide smile and kissed him for his efforts.
"This was the first time I've been to a First Thursday event," Parker said. "But I know they have a wine tasting coming up for the February First Thursday. We've already put that on our calendar."