Fourth Duke Leadership Academy Class Begins
Faculty and staff begin year-long program on leadership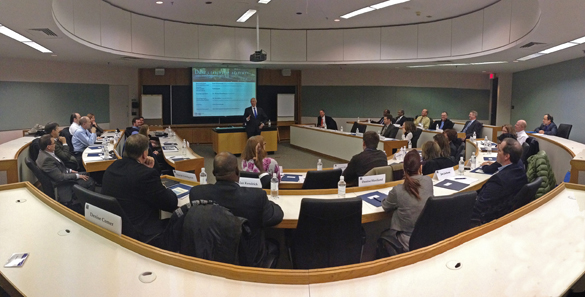 Duke President Richard H. Brodhead addresses members of the Duke Leadership Academy last week. Photo by Bryan Roth.
Representing areas from across Duke - from Athletics to University Development - 27 faculty and staff members gathered last week to kick off the fourth Duke Leadership Academy.
The year-long program helps emerging university leaders learn from current Duke administrators, trustees and others. To celebrate the start of the 2013 session, participants were welcomed by Duke President Richard H. Brodhead, who shared with the group his experience of becoming chair of Yale's English department and eventually president of Duke.
Brodhead said that one of the keys of good leadership is recognizing talents of others and allowing them to flourish with guidance. For him, that started when he was selected to act as chair of his department at Yale. He found that engaging and listening to his peers was an invaluable way to gain their trust.
"People like being a part of something bigger than themselves and it's about finding the thing that's bigger than self-interest," Brodhead told the academy participants Friday. "Leadership is letting people have space in order to let them be good at what they're doing. That way, they're able to find their place among something bigger."
That resonated with Denise Comer, assistant professor of the practice in writing and director of first-year writing with the Thompson Writing Program. She said that she found value in Brodhead's advice to think about how to encourage others to aim high and reach for their goals and dreams. She noted that taking that step primarily involves being a good listener.
"President Brodhead displayed the very leadership qualities he described as he took the time to not only ask participants to introduce themselves, but listen actively as we shared our names, positions and responsibilities," she said. "It became clear he was a careful listener who understood and valued each of our varied, but ultimately cohesive, contributions to our shared endeavor of moving Duke forward in compelling and significant ways."
Along with Comer, participants in the Duke Leadership Academy will spend 2013 learning from best practices introduced in the Fuqua/Coach K Center On Leadership and Ethics (COLE) model. Over the course of the year, class members hear directly from leaders at Duke, Durham and members of the university's board of trustees about their perspectives and experiences. Participants also have monthly readings and assignments that focus on critical leadership behaviors.
Participants are handpicked each year by the dean or vice president for their area and represent a broad spectrum of Duke's academic and administrative areas. The aim of the academy, which is co-sponsored by COLE and Duke Human Resources, is to nurture the next generation of leaders at Duke
"This organization thinks a whole lot about you and what you do," Kyle Cavanaugh, vice president for administration, told Leadership Academy members. "Our goal is to expose you to key leaders of the institution to strategically learn about their experiences and issues they face. We want to take Duke's talent and enhance your skill set."
Members of the 2013 Duke Leadership Academy are:
Richard Biever, chief information security officer, Office of Information Technology
Jim Bjurstrom, police major, Duke Police
Krista Bofill, director of development, Fuqua School of Business
Denise Comer, assistant professor of the practice in writing and director of first-year writing with the Thompson Writing Program
James Daigle, director of information technology, Pratt School of Engineering
Greg Dye, operations manager, Duke Lemur Center
Shanna Fitzpatrick, director of budgets and finance, Graduate School
Erin Gasch, director of alumni relations, Fuqua School of Business
Joe Gonzalez, dean of residence life, Student Affairs
Scott Greenwood, director of operations, Alumni Affairs
Denise Haviland, director of marketing and strategic communications, Public Affairs and Governmental Relations
Liz Hutton, director of admissions, Graduate School
Jon Jackson, associate athletics director, Duke Athletics
Amanda Kelso, associate director of GEO, Arts & Sciences
J. Alan Kendrick, assistant dean of graduate student affairs, Graduate School
David Lindquist, director of development, Divinity School
Stacey McCorison, associate dean for medical education administration, School of Medicine
Lupita McMillan, assistant dean of undergraduate affairs, Pratt School of Engineering
John Michnowicz, associate dean and executive director of the Office of Research Administration, School of Medicine
Leanora Minai, director of communications, Human Resources
Mark Phillips, IT audit director, Internal Audit
Alison Rabil, assistant vice provost and director, Financial Aid
Marnie Rhoads, assistant dean of special projects and academic affairs, Pratt School of Eningeering
Greg Rives, director of Bursar's Office, Financial Services
Beth Sizemore, assistant director of administrative systems management, Financial Services
Tom Szigethy, director, Duke Wellness Center
Brett Walters, manager of computing operations, Alumni Affairs