Head in the Clouds
Cheryl Stewart grew up among the Air Force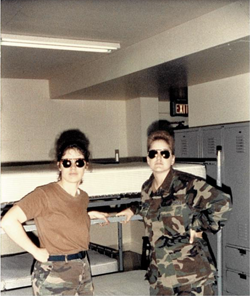 Name: Cheryl Stewart Position: Accounting specialist, Housing, Dining and Residence Life Years at Duke: 20 years
What I do at Duke: Since our department merged with Duke Dining Services , I've taken on a lot of responsibility with the dining side of things. I handle procurement card transaction reconciliation, where I take documentation of purchases and enter it into computer software, generate monthly cost reports for Housing and create purchase orders for buildings across campus.
If I had $5 million, I would: Take my daughter, Diana, on a vacation. She would like to go to Atlantis in the Bahamas  and swim with the dolphins. I'd love to go to Spain - it's the only place I've ever wanted to go. My dad was in the Air Force for 23 years, and whenever he'd travel, he'd have the best souvenirs. My favorite place was when he came back from Spain with Spanish dolls. Since I was 7 or 8, I've wanted to go.
My first ever job: I was a waitress for a Golden Corral  in Roxboro  during high school. It was a year-round job, but I also got a second job working as a sales person at Rose's. I eventually gave up the Golden Corral job because it was only on weekends.
My dream job: Originally, I was going to be an air traffic controller when I was in the Air Force, but I got injured during basic training and had to go home. I thought it would be so cool because when I was a kid because my dad would take me on base with him, and I thought the massive planes were fascinating.
If someone wanted to start a conversation with me they should ask me about: I'm usually very shy until I get to know somebody, but if you ask me about my daughter, I can talk a lot about her.
The best advice I ever received: My father told me to "work smarter and not harder," which was an Air Force quote. You shouldn't work too hard on something you can do easier and quicker in another way.
What I love about Duke: My coworkers across campus. They're so much fun. I get along great with everyone, and they're easy to get along with. It's like one big family.
When I'm not at work, I like to: Spend time with my daughter. We like to go shopping, watch movies or shop for crafts. Right now, she's in a cooking phase so she works from recipes, and I do the dishes. She's really good at it.
If I could have one superpower, it would be: To fly. Ever since I was a little girl I'd always dream I was flying through the air.
Something most people don't know about me: Probably that I was in the Air Force. I was 23 when I went in but left when I was not quite 24 because of my injury. I did my basic training in San Antonio, Texas.