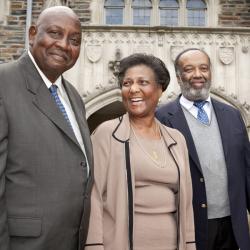 Duke's early African-American students were gifted -- valedictorians, class presidents, student teachers -- who grew up during segregation when blacks attended separate schools and rarely interacted socially with whites. They could have attended historically black institutions, like many of their peers from that era, but instead they came to Duke.
The university will celebrate the 50th anniversary of that historic moment with the official launch of a nine-month commemoration, "Celebrating the Past, Charting the Future: Commemorating 50 Years of Black Students at Duke." 
Registration for the event on Jan. 25 at the Nasher Museum of Art is no longer available. The first black undergraduates to integrate Duke's campus -- Mary Mitchell Harris, Gene Kendall, Wilhelmina "Mimi" Reuben-Cooke, Cassandra Smith Rush and Nathaniel "Buddy" White -- will be honored during the program. 
Of the five, Reuben-Cooke, Kendall and White are the surviving firsts and will be in attendance. Many of the pioneers who helped integrate the graduate and professional schools will also attend. The event will feature a short documentary video featuring oral histories of black students recalling the early days, including the Allen Building Takeover and the vigil on West Campus following the assassination of Martin Luther King Jr.
President Brodhead, Michael Bennett '77, the vice president of Duke's Alumni Association Board of Directors, and undergraduate student leaders will also offer brief remarks. 
The event will offer members of the Duke and Durham community a chance to mix, mingle and learn more about Duke's black history and upcoming events marking the 50th anniversary. 
Over the course of nine months, faculty, students and alumni will hold events aimed not only at celebrating 50 years of diversity and inclusiveness on campus, but also focused on the future. Departments and units from across campus are organizing exhibits, lectures, academic presentations, film screenings, musical programs and social events to showcase Duke's intellectual rigor, service-oriented history in Durham and beyond, and forms of black artistic expression.
"I think we have the opportunity in the year ahead to critically examine how blacks have integrated," said Nat White '67, a Durham native who attended Hillside High School and is past president of the Hayti Development Corporation. "We want to ensure Duke continues to be a place where students of diverse backgrounds can engage in an arena of mutual respect to tackle the great challenges of an increasingly diverse world. Black faculty, staff and students should be an integral part of that process."
Visit spotlight.duke.edu/50years for more information.