In the aftermath of the Newtown, Conn., killings, the country has again begun debating violence in America.  One Duke faculty member has relevant data.
Kieran Healy, associate professor in sociology and the Kenan Institute for Ethics, collected data on comparative death rates from assault across 24 economically developed societies from 1960 to the present.  The data is several months old -- updated after the July mass killings in an Aurora, Colo., movie theater -- but they still hold true.
Two points stand out from these data, Healy says.  One is "how much more violent the U.S. is than other ... countries," but the other is a steep decline in the number of assault deaths in the United States, particularly since the mid-1970s.  The data is below.  To see the full blog posting, click here.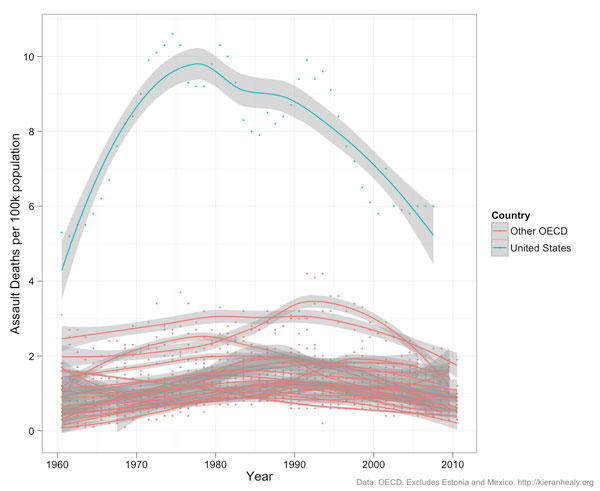 Digging deeper, Healy looked at the U.S. statistics by state and region and found another pattern: While all four regions have higher assault death rates higher than other countries, the South -- by far -- leads the United States in the category.
There's even more to the story. Looking at assault deaths by the race of the victim, Healy says, "The story here is depressing. Blacks die from assault at more than three times the U.S. average."
Below is the regional data.  Again, to see the full blog posting and a larger version of these data, click here.