Pick the Top 10 Duke Stories of 2012
Win a prize in Working@Duke's quiz of most-read Duke Today stories
In many ways, 2012 was a banner year for Duke.
Nobel Prize winner. Forays into online learning. A unique tribute to pop sensation Lady Gaga.
As we close out 2012, Working@Duke is looking back at some of the top-viewed stories on Duke Today.
On this accompanying quiz page, you'll find the headlines for the "Top 10 of '12," the 10-most viewed news stories on Duke Today in the past year. These stories are listed randomly, so try your luck at putting them in correct order starting with "1" as the most viewed story all the way to 10 as the least read. Click, drag and drop each story until you've reordered the list with the most-read story on top.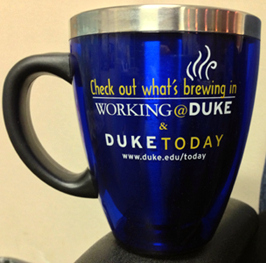 Win this mug.
Submit your entries by Dec. 21. The winner will be announced on Duke Today the week of Jan. 1.
We'll randomly draw one winner from the participants who put the most stories in correct order. The winner gets bragging rights as a top Duke Today reader and will receive a Working@Duke coffee mug to enjoy a hot beverage each morning while checking out the latest on Duke's daily news site throughout 2013.