Duke Workforce Demographics: How Duke's Workforce is Aging
Baby Boomers comprise the majority - 38 percent - of Duke's 34,863 staff and faculty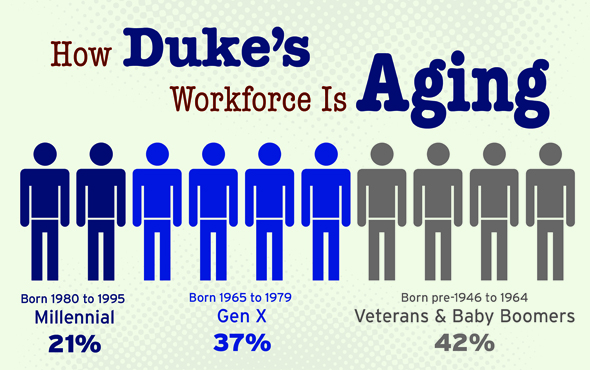 By 2017, an average of 20 percent of Duke's faculty and staff will be eligible to retire.
Will Duke be ready?
"In coming years, workforces everywhere will have an exodus of employees," said Keith Morris, a practitioner with Duke's Learning and Organization Development. "People will be leaving with a lot of institutional knowledge. The question to those who remain is, 'how do you bridge that gap and retain that knowledge base, which is critical to continuing strong institutions?' "
In today's workforce, generational diversity is readily apparent.
At Duke, four generations comprise staff and faculty ranks:
Veteran (born before 1946)
Baby Boomer (born 1946 to 1964)
Generation X (1965 to 1979)
Millennial (born 1980 to 1995)
Baby Boomers comprise the majority - 38 percent - of Duke's 34,863 staff and faculty, according to Duke Human Resources. Along with the Veteran generation, nearly half of all Duke employees were born before 1965, meaning as retirement approaches for some employees, others will prepare to fill vacancies.
To address the issue, Duke offers initiatives like the First-Time Supervisor Program and Duke Leadership Academy. Both programs recognize emerging leaders across Duke by teaching leadership qualities over a year. Activities include coaching, classroom learning, personal assessments and application of leadership theories. So far, about 150 employees have graduated from the two programs.
Kyle Cavanaugh, vice president for administration, said offering an educational track to leadership helps keep valuable knowledge at Duke. The programs offer unique perspectives and practical experiences from long-tenured leaders to developing ones, he said.
"The initiatives have proven to be outstanding strategies in developing our internal talent and in setting the stage to address emerging succession issues," Cavanaugh said. "While we have numerous internal development programs for our employees, these two have been successful in identifying individuals that have capacity, interest and energy around broader responsibilities."