Off And Running
Mary Beck White-Sutton loves running and recently finished a marathon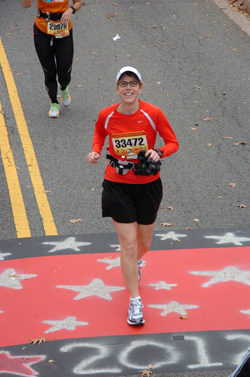 Name: Mary Beck White-SuttonPosition: Sector director of consulting, Fuqua School of Business Career Management CenterYears at Duke: 11
What I do at Duke: I am a career consultant and I work with students to provide resources and tools to help them develop confidence and acumen in their career search. Additionally, I build, maintain and manage relationships with current and potential employers in the Management Consulting industry. Once students exit this building, I want them to feel self-sufficient in terms of their ability to navigate the job market. If something in their professional life changes - if they get laid off, for example - I want to make sure that they have the tools and competence to be able to find a job that's satisfying. It's all about providing guidance toward finding a fulfilling career.
If I had $5 million, I would: Create a scholarship in memory of my father and in honor of my mother for tuition for students who aren't able to pursue college. I come from a long line of educators, and we value an education tremendously. I also have a passion for our aging population, so I'd love to take some of that money and do something like sponsor an oral history project specifically towards those who served in World War II. I would use this information not only as a reminder of their sacrifices but to also create a record of the characteristics of this "Greatest Generation" that we would be well served to emulate.
My first ever job: I was a lifeguard at a community pool in my tiny hometown of Gordon, Georgia. It probably has about 1,500 people who live there, so it was an easy summer job during high school. It helped to cut my teeth for responsibility, watching over other people like that.
My dream job: I am in one of my dream jobs. I really like face time with people, presenting and helping others learn. I'd want to work where I'd have the opportunity to make a real difference and impact.
If someone wanted to start a conversation with me they should ask me about: Being outside. My husband and I just completed our first marathon October and are training for a half marathon March 2013. We also like to kayak and mountain bike. I ran the marathon last year, but couldn't finish it because of an injury so finishing it this year was personal redemption for me.
The best advice I ever received: My mother used to tell me I'm a divergent thinker, and I should continue to use that skill. She meant that I was creative, thought outside the box and was not one dimensional.
What I love about Duke: Duke provides a lot of opportunities for growth and development for anyone who takes advantage of it. It's exciting to know that we get renowned speakers coming to campus, and we have such a great learning environment. There are lots of chances to grow if you're purposeful about it.
When I'm not at work, I like to: Currently, I run a lot. I average four runs a week with my longest runs on Saturday, and I also do cross training on other days by rowing or biking. I also like watching college football and basketball, reading and politics.
If I could have one superpower, it would be: Extraordinary awareness. I'd always want to be able to know when it's most important to slow down and really listen to a person.
Something most people don't know about me: My husband and I have sponsored a child named Emmanuel in Rwanda since 2004. He was 8 years old when we started, and he's 16 now. We've sent money to him that goes toward educational expenses and a learning center in his town. I know at one point he was able to use the money to buy a goat for his family. We received a letter telling us about this experience and how meaningful this was to him.