Duke Wins Commuter Awards
Duke honored as part of annual 'SmartCommute Challenge'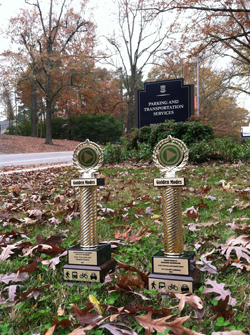 Duke recently received two awards as part of GoTriangle's "SmartCommute Challenge," an annual program focusing on how Triangle area residents can help reduce local traffic and improve air quality.
Duke earned a trophy as champion in the "Battle of the Brains" category, which pitted area colleges and universities against each other to see who could track the most use of regional buses. Duke also won a trophy for the most trips tracked as a participating organization with more than 15,000 employees. In all, 204 Duke commnity members tracked 3,294 trips on Triangle Transit buses.
The aim of the SmartCommute Challenge, which ran Sept. 1 to Oct. 15, is to get community members to try an alternative commute by riding a bus, carpooling, vanpooling, teleworking, biking or walking.
Brian Williams, Duke's transportation demand management coordinator, said that along with the benefit of saving money on gas, an advantage of using alternative transportation is the ease of traveling to campus without worrying about getting stuck in traffic or finding a parking spot.
"What these awards recognize is that Duke employees and students are committed to trying alternative transit and enjoy the flexibility they have to choose the best way to get to campus each day," Williams said.
Duke has previously been recognized by GoTriangle for its commitment to alternative transportation. In 2011, Duke received a "Commuter Champion" trophy given to workplaces that offer top-tier commuter benefits and/or facilities. Williams also received an "Employee Transportation Coordinator Honors" award for work to improve sustainable options at Duke.
Duke offers various incentives for community members who use alternative transportation, including, among other perks, up to 24 free parking passes and the GoPass, a free bus pass for students and eligible employees.