Duke Quidditch Gets a Boost
Faculty researcher's advances in invisibility cloaking catch the team's attention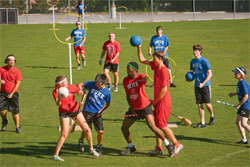 If you thought that progress by Duke research on an invisibility cloak was good news for the university's Quidditch team, you weren't alone last week.
The big news last week was that Pratt School researchers had announced advances on an invisibility device that "flows" light around it without being detected.  The device works only in part of the full spectrum of light, but the advances are moving humans closer to the realm of the fictional world of Harry Potter.
The results understandably caught the attention of the Duke Quidditch team, the game featured in the Potter series.
Anjali Sawh, a member of Duke's Quidditch team, wrote a congratulatory note to Professor David Smith, the lead Pratt researcher on the project. Sawh also invited Smith and the research team to the student group's annual Harry Potter-styled Yule Ball on Nov. 30, adding the research was "an inspiration to both Duke Quidditch as well as the Harry Potter fandom as a whole."
Smith replied, "We have been laboring now for many years to develop technology that would give the Duke Quidditch team the edge. I apologize that we are still a little behind in our efforts, but rest assured we will continue this pursuit wholeheartedly. It consumes us."
Sawh wasn't the only to catch the news.  Here's what Stephen Colbert had to say on The Colbert Report.
The Colbert Report Get More: Colbert Report Full Episodes,Political Humor & Satire Blog,Video Archive
Now if the engineers could just work on perfecting a flying broom.