Mix and Mingle with Colleagues at Holiday Social
Staff and faculty invited to celebrate the season at Dec. 6 event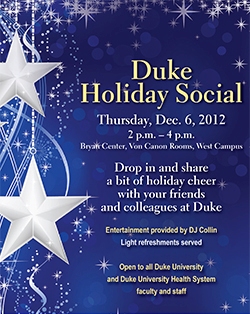 Ring in the holiday season with Duke University and Duke University Health System colleagues during a holiday social from 2 to 4 p.m. Dec. 6. 
The event, open to all staff and faculty, features light refreshments, holiday music and the opportunity to socialize with colleagues. This year's event is in the Von Canon Rooms in the Bryan Center on West Campus. 
Denise Evans, executive director of Duke Staff and Labor Relations and Staff and Family Programs, said the holiday social is one of many ways Duke shows appreciation for employees. "It's one way to thank staff for their positive contributions throughout the year," she said.
Lesley Looper, head of the receipts management section at Duke University Libraries, plans to attend the event.  
"Since I work at Smith Warehouse, it's a great chance to visit with other Duke employees I know from around campus," Looper said. "Seeing colleagues in a festive atmosphere helps me get into the Christmas spirit."