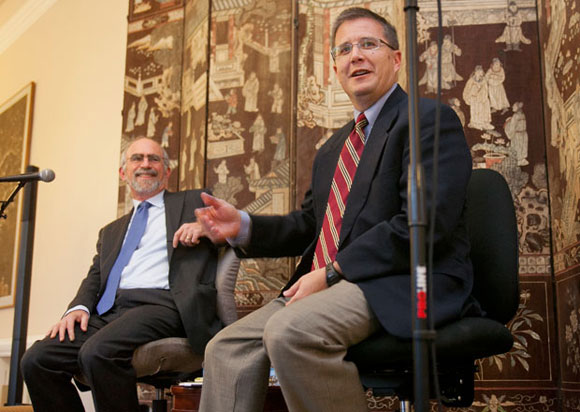 Duke political science and public policy professors Peter Feaver and Bruce Jentleson started out analyzing the 2012 presidential election results, but it wasn't long before both started looking forward.  And for Feaver that meant four foreign policy areas that will test President Obama very quickly.
Speaking at an event in the Lilly Library's Thomas Room the day after the election, Feaver put the deteriorating situation in Syria at the top of the list.  The challenge of whether China and Russia can be convinced to support a United Nations resolution with substance or whether a separate coalition is needed probably "had White House staff working on that issue on election day," Feaver said.
He also cited the continuing Eurozone crisis and a second deteriorating situation in Mali that is serious but largely unknown to the American public.
"The fourth is how we can help China work through its own leadership transition," Feaver said.  "It's interesting we had this day of election and other countries look at how we accept results and transfer power as something of an achievement.  China is struggling with that.  The Chinese transition is not likely to be violent, but the likelihood of hypernationalism or adventurism particularly in the island dispute with Japan is likely to be a challenge for the administration."
Beyond the short term, Feaver said the White House will be challenged to develop a new strategy on the War on Terror, which is increasingly dependent on drone strikes that appear to be effective but are growing unpopular around the world.
Duke colleagues Jentleson and Feaver come from different sides of the political map: Jentleson advised the Obama campaign, and Feaver worked in the Bush Administration. They shared similar takes on how Obama won the election through superior strategy and Republican self-inflicted wounds.  More than 40 people attended the event.
For a story from the Durham Herald-Sun, click here.
Photo by Megan Morr/Duke University Photography.
The full video of the event is below.