Duke in Pictures: Winners of Campus Food Drive Contest
Duke community collected 17,616 items for NC families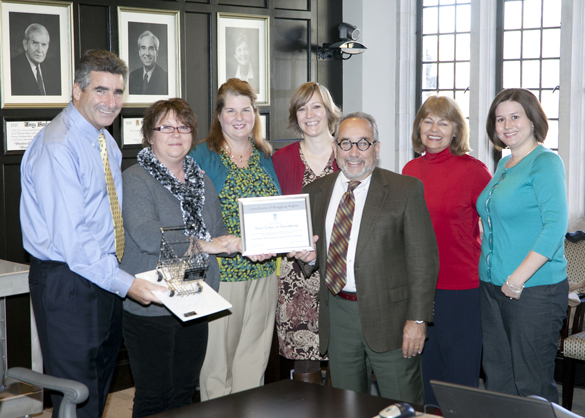 A campus-wide food drive contest helped collect 8,240 pounds of items this month to donate to the Food Bank of Central and Eastern North Carolina. On Nov. 26, Duke provost Peter Lange, center, with plaque, presented a certificate and "Silver Shopping Cart Award," to members of the Pratt School of Engineering, which won the competition.
Organized through the Pratt School, students, faculty and staff from across Duke accumulated 17,616 canned goods, grains and more that will help create almost 7,000 meals for local families. The competition pitted Duke's academic schools against one another to see who could collect the most donations prior to Thanksgiving. The Pratt School amassed 6,410 donated items. All participating schools received a certificate of participation.
"Everyone is already talking about their strategy for winning next year," said Kathy Kay, director of special events at Pratt.