Managing Duke's Technology Policies
Thomas Brosnan helps put computers and technology at employees' fingertips
Name: Thomas BrosnanPosition: IT sourcing manager, Procurement ServicesYears at Duke: 4
What I do at Duke: As an IT sourcing manager, I negotiate contracts, evaluate business proposals and manage contracts.  I act as a liaison for Duke and the Health System for all vendors and their IT contracts - anything from IBM to Oracle, SAP, Dell, or Lenovo. I work to make sure we're getting the best products for the lowest price and that every piece of IT at Duke is in compliance with federal, state and local laws, Duke policies.
If I had $5 million, I would: I have four kids, so I'd definitely make sure they're set financially as they grow up and have some sort of nest egg after they're done with college. It'd also be nice to take a vacation with my family and have money to make sure we can stretch out. Six people in one hotel room can be pretty tight.
My first ever job: I worked at a Burger King on Long Island. I was 15 at the time and did it for one year, through my school year and summer.
My dream job: I really like what I'm doing now. I love working at Duke. When my kids are able to go around and say their dad works for Duke, it gives me a good feeling.
If someone wanted to start a conversation with me they should ask me about: My family. I take great pride in them. My oldest son, who's 13, is into acting and has been in a lot of plays. He's trying to get some TV spots, so it's exciting to watch him grow into that. My next oldest is 10, and he's into baseball. I also have 5-year old and 3-year old sons, and it's so much fun to watch them grow and develop.
The best advice I ever received was: My dad always told me if you're going to do a job, do it right the first time. It's something I've always lived by and focused on. It just made good sense not having to do a job again and again. I realized at a young age that if you sweep the driveway or mow the lawn, you're better off doing it right first because then you're done.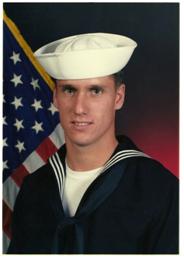 Brosnan during his time in the Navy in 1990.
What I love about Duke:All the people that work here. It's amazing how everyone is nice and easy to work with. People are always willing to share knowledge and help you grow.
When I'm not at work, I like to: Play sports with my kids, mostly. With four kids it's tough to find other things to do. I like to take them to the pool and playground. I take my oldest to baseball practice, and I coached T-ball for my 5-year old.
If I could have one superpower, it would be: To fly. I hate sitting in traffic.
Something most people don't know about me: I was a volunteer fireman, and I also spent time in the Navy.
An interesting/memorable day at work for me was: My first day. There was a lot of excitement of being employed at Duke, getting to walk around and see where I'm working. To be a part of Duke was exciting.