Keeping An Open Mind
Nancy Bishop loves learning and meeting new people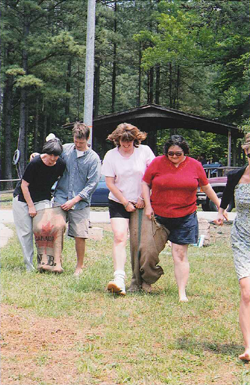 Name: Nancy Bishop Position: Grants and contracts administrator, Department of Cell Biology Years at Duke: 23
What I do at Duke: I handle pre- and post-award grants administration. When professors put in for grants, I take care of putting information in our system and help get grants submitted. Once a grant is awarded, I take care of making sure it's spent correctly and at the rate is should be spent.
If I had $5 million, I would: Try to take my mom on a trip. She's 84 and has only done a little traveling. She's talked about going to Australia or maybe Scotland. I'm a regular blood donor, so I'd want to give some kind of donation to the Red Cross. I used to give once every eight weeks. I've given about 18 gallons of blood over my life.
My first ever job: I bused tables at a restaurant at Northgate Mall  called Bahou Container . It was like a self-serve cafeteria. I cleared tables and cleaned dishes before moving to waitressing for about a year-and-a-half. I worked there throughout high school.
My dream job: I like what I do. I get to interact with people, the work is interesting, and there's never a dull moment.
If someone wanted to start a conversation with me they should ask me about: They should just say 'hi' and ask me whatever they want. I'm pretty friendly.
The best advice I ever received: Do what you're told. It's just something you learn over time. The more things you do, the more things you learn and the more invaluable you become to those around you.
What I love about Duke: The flexibility. I've been able to work toward getting my bachelor's degree in management in society. I started at Durham Technical Community College, and I'm at UNC-Chapel Hill now.
When I'm not at work, I like to: Read or go to the lake with my granddaughter. She's learning to water ski. When I `read,' I like to listen to books on tape when I'm in the car. I listen to all kinds of books.
If I could have one superpower, it would be: I'd want to be an avatar, like the cartoon Avatar: The Last Airbender . You're able to "bend" water and air by moving it around.
A three-legged race is cut short for Duke employees Nancy Bishop and Cristy McGranahan.
Something most people don't know about me:That I like anime - Japanese animation - and that I know what it is. I like watching The Legend of Korra , which is an extension of Avatar: The Last Airbender, which is kind of cool.
A favorite movie is: Beauty and the Beast because Belle  is a very strong female character, and she's able to recognize that you have to look beyond how people look to see what's inside.
A memorable moment at Duke for me: My office used to have an annual picnic and we would do potato sack three-legged races. Six years ago, a coworker and I ran the race and just completely wiped out. It was hysterical.