Duke University Road Parking Lot Gets Upgrades
Trees, shrubs, pillars add to aesthetics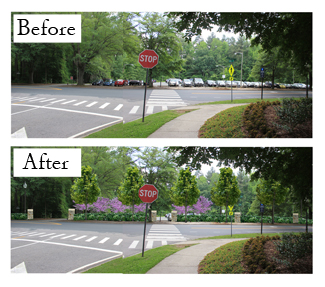 Click photo for larger version
A parking lot on Duke University Road near Chapel Drive is getting a facelift over the coming weeks as Duke adds some green space to beautify one of its gravel parking lots.
The project, which began Oct. 13 on the westernmost Duke University Road lot, will continue through the end of November. Facilities Management crews will add hedges, trees and 5-feet tall pillars featuring a traditional Duke stone facade. Six new pole lights will also be added along the front of the lot along Duke University Road.
During construction, traffic will not be impacted along Duke University Road and only a handful of parking spots are temporarily blocked as work continues.
In all, the project will add 11 Duke stone pillars, as well as posts with metal chains that cordon access along the edge of the parking lot. Part of the goal of the new pillars and chained posts is to enhance safety by having pedestrians cross at a designated crosswalk on Duke University Road.
Green improvements include planting 72 Dwarf Burford Holly shrubs, six Redbud trees and nine Shumard Oak trees.The hedges and trees will take up about 10 feet of space between the end of the gravel lot and the curb on Duke University Road and will shield the view of cars parked in the lot.
An additional change will be a new 10-by-25-feet concrete pad at the Duke University Road crosswalk that goes across the street to Chapel Drive. The pad will provide stable footing for pedestrians during inclement weather. Two new emergency phones will also be installed, one each on the eastern and western sides of the lot.