Attend Duke Athletics Games For Free
More than half of Duke's teams offer free admission to events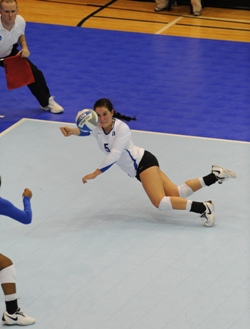 Lydia Kwee, a biostatistician in the Center for Human Genetics in the Department of Medicine, takes her two children to six or seven Duke volleyball matches each season.
Read More
Her kids, Simone Kwee, 10, and Isaac Kwee, 7, wave their hands wildly at Duke volleyball players as they're introduced in Cameron Indoor Stadium, hoping to capture their attention and catch one of the toy volleyballs that players toss into the crowd.
"Trying to snag those little volleyballs is part of the fun of going to a match," Kwee said. "They each have caught one in the past, and they love to go back and try again."
Women's volleyball is among the 16 of 24 Duke collegiate sports that offer free admission. Others include women's field hockey, men's wrestling, women's rowing, men's and women's fencing, golf, tennis, cross-country running, track and field, and swimming and diving.
Attending Duke games is an opportunity to see first-class athletes competing against other top-notch college athletes. It might even give you an early glimpse at Olympic-caliber athletes. According to Jon Jackson, associate director of athletics, Duke has a solid record of producing Olympic-caliber athletes and coaches. 
"This year alone, Duke had eight current and former student-athletes and coaches representing their respective countries in the 2012 London Olympics," Jackson said. Those athletes included medal-winning divers Nick McCrory and Abby Johnston, as well as diving coach Drew Johansen and team USA basketball coach Mike Krzyzewski. 
The 2012-13 schedule of free athletic events at Duke starts with a two-day volleyball invitational tournament Aug. 24-25 in Durham. The women's field hockey team will take on Princeton Aug. 31., and the men's and women's cross country teams' first home event is against North Carolina Central University on Sept. 15.
Later this academic year, fencing, tennis, golf, wrestling, track and field, and swimming and diving will begin their seasons and also offer free admission to their events.
Duke is committed to offering a wide range of sports teams and has adjusted which teams charge admission over the years.
"It's a balancing act," Jackson said. "We want to make the sports accessible, and the teams thrive on having fans at the games, but we also have to be mindful of the budget. We place a priority on providing an outstanding atmosphere for the men and women who represent Duke in competition." 
Kwee, the Department of Medicine biostatistician, said the free admission to volleyball made it easy to introduce her children to a sport she fell in love with as a high-school player. The family now tries to attend any home volleyball game that doesn't conflict with school sports.
"Since it is free, we can go on a whim, watch most of a match and still make it home in time for bedtime," Kwee said. "It's become sort of a habit."