New Entrances Added Along East Campus Wall
Pedestrian entrances are at Main Street at Buchanan Boulevard and Broad Street
For the first time in decades, adjustments are being made to the wall around East Campus, allowing for convenient access to the popular walking trail.
Two entrances are being created along the wall - one at Main Street and Buchanan Boulevard, which recently completed, and the other at Main and Broad streets. Both entrances maintain stonework aesthetics familiar across Duke's campuses.
"The new openings will make it easy for people who work in Smith to use the East Campus trail at lunch or after work and also provides a clear access point for students on East who want to go downtown on Main Street," said Mark Hough, campus landscape architect in the Office of the University Architect, "The Broad Street entrance will generally improve connectivity between East Campus and the Ninth Street area. More specifically, it will make the Bull City Connector stop at Broad and Main more accessible for students and employees."
Construction by the City of Durham on water lines along Main Street prompted Duke to make adjustments to the wall. The entrances were created after the city asked Duke about redirecting pedestrian traffic from Main Street to the East Campus trail because the sidewalk along Main Street is blocked off during road work that is expected to continue until September.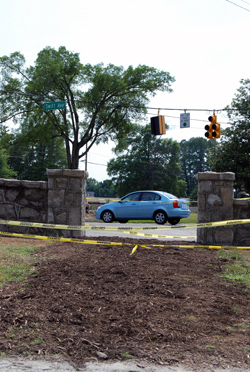 Construction on an entrance at Broad and Main streets is expected to be completed in coming weeks. Photo by Bryan Roth.
Hough said the idea to build entrances first came up in 2010 as part of the Office of the University Architect's biannual action plan. The city's construction efforts along Main Street provided the opportunity to follow through.
Aside from occasional masonry work to repair the wall when it has been struck by vehicles, Hough estimated these are the first alternations along the wall since the 1980s, when a separated portion of brick wall was taken down and a hedge of cypress trees were planted on Broad Street.
"As a Duke employee who lives in the neighborhood and frequently runs on the trail around the wall, I would say that the project gives me particular satisfaction because it enhances the relationship and connectivity between East Campus and the surrounding Durham community," Hough said.