How To Beat Burnout And Renew Purpose
Duke staff and faculty find creative ways to decompress and get reenergized
Joshua Wilson spends 15 to 20 hours each week double-checking the accuracy of X-ray, CT, MRI and other systems that create images of patients.
When he needs a break from the routine, Wilson takes a stroll through Duke Hospital, taking a few moments to say hello to staff members or notice patients and their loved ones making their way to appointments.
"Seeing patients and staff with fresh eyes helps me remember why I'm here," said Wilson, a first-year resident with the Clinical Imaging Physics Group in Radiology. "When I get back to work, I can tackle the next task with renewed purpose."                 
In a national survey by CareerBuilder last year, 45 percent of employers said they thought their workers were burned out, largely due to doing more with less after the economic downturn.
But, experts say, changing the rhythm of life with activities like a vacation or exercise can help with renewal.
"There is something energizing about breaking a routine, whether it is taking a vacation for two weeks or turning off your email for 20 minutes," said Carol Retsch-Bogart, a counselor with Duke's Personal Assistance Service. "It's like hitting the reset button."
Take some pointers from these Duke employees on how they beat feeling overwhelmed and reenergize themselves.
Get a lift from levity
Seven Divinity School employees lined up in the grass outside their building. "One, two, three," shouted Todd Maberry, Divinity's director of academic formation and programs.
Suddenly, seven paper airplanes swooped over the Duke Chapel front lawn.
The occasion for the air power was 'Office Olympics,' a 15-minute break on Fridays for renewal and fun conversation. "Trying to interact with co-workers in creative ways is important to me," said Maberry, an organizer of the event whose paper plane went the farthest. "It gives us something to talk about besides the job."
Over the past few years, Maberry and his colleagues have organized a variety of light-hearted breaks, including holiday cookie exchanges, yoga classes and holiday decorating contests.
"We all have a lot to get done with very small staffs," said Sheila Williams, director of financial aid for the Divinity School. "I love looking forward to a break from financial aid applications to have a bit of fun."
Make time for exercise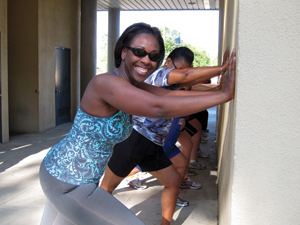 DeAnna Hall clears her mind by running with the Duke Run/Walk club after work twice a week. Photo by Marsha A. Green.
DeAnna Hall listened to her sneakers slap the trail as she inhaled the crisp air in Duke Forest. Almost immediately, the tension drained from her body.
Three years ago, Hall started walking and running with Duke's Run/Walk Club because she wanted to lose weight. She's lost 75 pounds and still runs with the group after work on Mondays and Wednesdays to clear her mind.
"After a long day, exercising gives me time for myself," said Hall, IT analyst for Central Administration.
In addition to the Duke Run/Walk club, LIVE FOR LIFE, Duke's employee wellness program, offers other healthy eating and fitness programs, including two free annual fitness consultations.
Liz Grabosky, fitness manager for LIVE FOR LIFE, said exercise releases endorphins, which improve mood and help the body relax. "Breaking a sweat doing something you enjoy is a fantastic way to be in the present moment and reduce stress," Grabosky said. "And research shows that people who exercise regularly are less likely to get depressed than those who stick to a sedentary lifestyle."
Take a vacation
Kathryn Helene revitalizes herself with a two-week vacation each year. She is pictured here in Prague, the capital of the Czech Republic. Photo courtesy of Kathryn Helene.
Kathryn Helene stood in the cobblestone street. She didn't know where she was. She didn't know anyone, and she couldn't speak Hungarian. "It was so disorienting it was liberating," she said.
That sense of freedom - of being disconnected from a regular routine - is why Helene takes a two-week vacation every September.
"I save up my pennies and my time for one big vacation each year," said Helene, senior practice partner for Duke's Learning and Organization Development.
Duke staff and faculty accrue 10 to 20 days of vacation a year, depending on job level and years of service.
Although taking a long weekend or occasional day off helps with stress, the best vacations are long ones, said Retsch-Bogart, the counselor at Duke Personal Assistance Service. "Real vacations allow people to completely disengage from work and come back renewed," she said. "That's good for both the person and the organization."
Helene has also traveled to France, Iceland and the Czech Republic, immersing herself in different cultures by visiting with locals and minimizing visits to tourist attractions.
"Going to a totally different place and doing totally different things means that I come back to work with a clean slate, ready to start fresh," Helene said.
Refresh with a new skill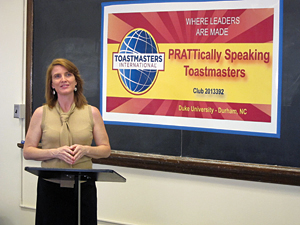 Meg Barker helped launch the 'PRATTically Speaking' Toastmasters club to expand her public speaking and leadership abilities. Photo by Marsha A. Green.
Meg Barker helped launch a Toastmasters Club at the Pratt School of Engineering because she wanted to stretch herself.
That's also why she took classes on PowerPoint, Adobe Acrobat and web design at Duke. And that's why she attends seminars and lectures during lunch breaks and applied for additional training through Duke's Professional Development Institute.
"I love to learn new things," said Barker, a staff assistant in the Pratt School's Office of the Dean. "I like the feeling that there is always something new around the corner. That way I never feel burned out."
Duke offers an assortment of professional development opportunities, including free and low-cost classes through Duke's Learning and Organization Development and nearly 1,300 free on-demand training tutorials through Lynda.com.
"Even if you face fatigue and frustration in a job, learning something new can lift your spirits," said Retsch-Bogart, counselor at Duke Personal Assistance Service.
Barker said the encouragement to learn was the primary reason she came to work at Duke four years ago. "There are so many opportunities here," she said. "I can grow without having to leave."