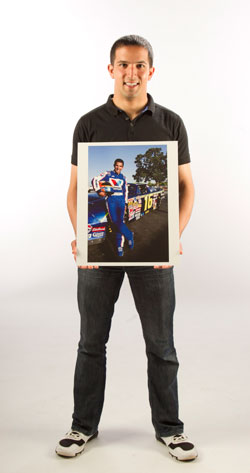 On a windy spring afternoon, professional NASCAR driver Paul Harraka grabs a quick bite before heading to the airport to catch a flight to Boston. He's presenting a talk at the MIT Sloan Sports Analytics Conference on how economic shifts in NASCAR are forcing drivers to become more entrepreneurial. In the past, he explains, talent alone could propel a great driver such as Jeff Gordon or Jimmie Johnson to the front of the pack, and sponsors would sign on to cover the related costs of racing. But increasingly, the economics of the sport require drivers to secure private financial backing to progress through the ranks. Unless a talented driver has a wealthy family or private investors, sponsors are unlikely to follow.
"I'm extremely focused on going fast," he says. "It's what I love to do. At Duke, I've sought out people and opportunities that have helped me identify ways to continue climbing the ladder toward achieving my goals."
He switched his major from mechanical engineering to sociology and earned a certificate in markets and management, taking additional classes in business, engineering, finance, and sports psychology. He built networks of people who could help him think strategically about building a brand, including law professor and senior associate dean for academic affairs Paul Haagen, visiting associate professor in markets and management George Grody and senior adviser to the president and provost for innovation and entrepreneurship Kimberly Jenkins.
Harraka has been winning races since he was seven years old. He's made steady progress climbing the NASCAR ladder, a progressively competitive system that begins with amateur races and culminates with the Sprint Cup Series. (He's currently in the Camping World Truck Series, one of NASCAR's three national series.) He is raising the significant capital needed to reach the Sprint Cup by selling an equity stake in his career, with investors sharing in his potential Sprint Cup winnings. (Sprint Cup winners earn, on average, more than any other professional athlete.) He's also joining with veteran NASCAR crew chief Richie Wauters, whose previous NASCAR teams have racked up multiple wins.
While he's in Boston, he'll meet with three key seed investors, including North Bridge Venture Partners general partner Carmichael Roberts Jr.  Harraka was introduced to Roberts, who serves on the Duke Alumni Association board of directors, through DAA associate vice president Sterly Wilder, a longtime NASCAR fan.
"Carmichael helped me identify where exactly I wanted to get to with my career, then helped me think creatively about ways to get there," Harraka says. "His hands-on approach to helping me has made all the difference."
Harraka's racing schedule took him away from campus most weekends, but he was able to carve out time to be involved with the Newman Catholic Student Center and helped Duke's SAE (Society of Automotive Engineers) Competition team design and build open-wheel racecars. Although his undergraduate trajectory was unusual, he says he doesn't feel he missed out on anything. "I packed a lot in," he says, polishing off his lunch. "I wouldn't change a thing."