'Five Days of Duke Today' iPad Winner Is ...
Duke community uses Duke Today, social media during contest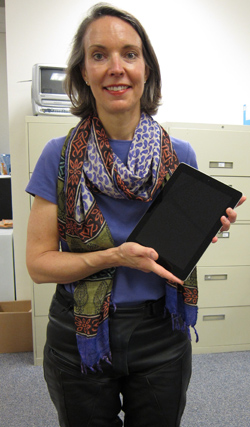 Duke community members took to their computers last week to email, "like" and cast votes with the hope of landing their own iPad.
Read More
Among several hundred faculty and staff participating in the "Five Days of Duke Today" contest, Margaret Pendzich was randomly selected this week as the grand prize winner of an iPad 3. To be eligible, Pendzich and others had to complete specific tasks related to the news website's features and content. Between April 23 and 27, daily tasks were announced on Duke Today and participants had to log entries online.
Pendzich - who completed all five tasks and a sixth "bonus" task - said she's been waiting to find a way to get one of the Apple tablets into her hands. Now she'll use her new piece of technology to read eBooks, lookup recipes, follow the news and check Duke email.
"My husband has an iPad to use for classes in the MBA school at UNC, and I've been envious," said Pendzich, program manager with the Duke Global Health Institute. "I've never felt justified to spend the money and get one of my own."
Among other tasks as part of the contest, Pendzich joined the LinkedIn social networking site so she could become a member of Working@Duke's group. She noted that completing the "Five Days" tasks was easy because she's very familiar with Duke Today - it's her homepage.
"When I get into work, I check my email and flip over to Duke Today to see what's happening," she said. "It keeps me filled-in with what's going on."
It's the same for Sean Aery, who completed all the "Five Days" tasks and was the first person to submit a story idea the first day of the contest. Aery, who also has his homepage set to Duke Today, said he wanted to make sure he was in the running for the iPad. He also joined Working@Duke's Facebook and LinkedIn pages, which he didn't know existed.
"Those two were new to me, as was the `submit a story' form," said Aery, digital projects developer for Duke Libraries' Digital Experience Services. "Now it's nice to know those things are out there so if I see something I think is newsworthy, I know where to send it."
That kind of interaction was key for the Five Days contest, said Leanora Minai, editor of the "Working@Duke" section of Duke Today.
"The contest helped achieve our desired results by bringing in new Duke Today readers and building community," she said. "Duke Today continues to be the one-stop-shop for news you can use about working at Duke and all of the interesting and important happenings in research, academics and other activities."