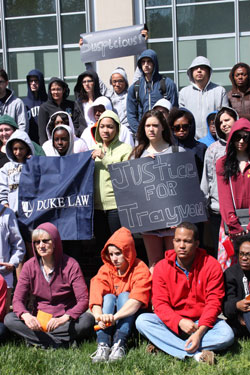 Students and faculty from Duke Law School and the
greater Duke community gathered to protest the shooting death of Florida teen
Trayvon Martin, an unarmed 17-year-old who was followed and killed by a
self-appointed neighborhood watch member while walking home from the store.
Many in the group wore "hoodies,"
hooded jackets like the one worn by Martin when he was killed.
"One of us, walking home from that store
that night could have been targeted and killed because of a racial stereotype
-- and that's the scary part," said Bud Baker '14, incoming president of
the Duke Black Law Students Association, which organized the protest in
conjunction with similar events organized by Black Law Student Association
chapters across the country. "This photo represents a community call
for justice. We are all Trayvon Martin today."