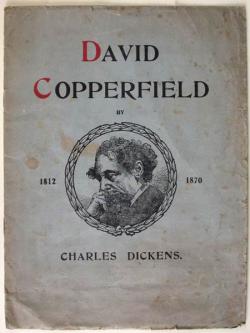 Michael Malone is a novelist and Emmy-winning former lead writer for One Life to Live, the much-celebrated soap opera that recently ended after a 43-year run. He is also an unabashed fan of Charles Dickens, whose 200th birthday is Feb. 7.
Malone, a professor of theater and English at Duke, will be re-enacting some of Dickens' most popular works at 7 p.m. on Feb. 8 at Perkins Library.
Here, he gives us his five favorite Dickens novels, along with this advice: "Keep a Dickens novel around you always. You'll laugh; you'll cry; you'll be eager to know what happens next. That's why Dickens is the novelist's novelist. There's nobody better."1. Great Expectations
If obliged to choose only one Dickens novel to save from a burning house, I would pick the one with that remarkable burning house of the mad Miss Haversham in its memorable pages. From the terrifying opening scene when the boy Pip is grabbed in the foggy graveyard by the convict Magwitch, through the boy's tormented infatuation with Estella and his mistaken belief that Miss Haversham plans to make him her heir, the story of Pip's great expectations never falters in narrative force or imaginative energy.
I read Great Expectations every five years. It changes as I change. It is never not great.2. Bleak House
I agree with the assessment of most critics that Bleak House is Dickens' consummate achievement in the novel form. Serialized in 20 monthly installments and wonderfully illustrated by Phiz (one reason we know the Dickens' characters so well is because they were so vividly drawn for us -- early graphic novels), Bleak House is long, with multiple interlaced subplots, and richly complex in its construction.
Malone reads Dickens stories in character in the Rare Book Room.
The enormous canvas of unforgettable characters both comic and tragic shows Dickens at his most inventive. He makes a perfect story out of his political and social passions: his indictment of the legal system -- with its heartbreaking tale of Jarndyce vs Jarndyce; his contempt for the class system that privileges aristocracy; his sympathy for the oppression of women in Victorian society that imprisons Lady Deadlock. All these make the novel so fully resonant today that it is constantly revived in new media: the BBC has already done three multi-part television series, the latest in 2005.   3. Little Dorrit
Also recently and beautifully made into a serial drama on PBS. Again, Dickens' monthly installments drive multiple interlaced plots powerfully forward. But I most love Little Dorrit for its sharp as Swift satire on Western capitalism.  The first book is called Poverty. (The Dorrits are in debtors' prison.) The Second: Riches. (Mr. Dorrit is miraculously heir to a fortune.) Neither condition in itself makes anyone happy. I love the assaults against government corruption and inefficiency (the Circumlocution office) and against the Ponzi schemes of the super-rich (The Great Merdle Scandal that takes down all who invest in his stocks -- including Mr. Dorrit.)   
4. David Copperfield
The first Dickens novel I knew. My mother read it to me as a child and then I read it at 12 after a TV viewing of the wonderful MGM movie in which W.C. Fields plays Mr. Micawber. David's story is as close as Dickens ever came to writing his own story. No writer I know was better able to convey the impassioned intensity of a child's emotions or the acuity of his perceptions.   
5. Our Mutual Friend & Dombey and SonI've been trying to choose between these two novels for days. I can't do it. Both are brilliant discourses on the power and powerlessness of money. Both introduce marvelous characters -- romantic, murderous and, some of them, the funniest characters Dickens ever imagined. From Friend: Silas Wegg, the conniving ballad singer with his wooden leg, and Mr. Venus, the taxidermist with a broken heart, still make me laugh out loud. And from Dombey you have Mr. Toots in love with the heroine; I feel as affectionate a humor as if he were in my family. Indeed he is.