Duke Benefits Support Work And Family Life
Employees share how Duke's benefits make a difference in their lives
James Todd received paid parental leave three times during a five-year span for the births of his sons.
Jill Foster used Duke resources to find childcare.
Read More
Tempie Fuller telecommutes to give herself flexible time with her son.
And Kellie Johnson carried her partner on her health care insurance.
These are several examples of benefits and programs that continue to gain recognition for Duke as a "Best College to Work For" by "The Chronicle of Higher Education" and a "Top Family Friendly Workplace" by "Carolina Parent" magazine. 
"Duke has an enduring commitment to provide a range of services and benefits that allow employees to meet the demands of their work and family lives at many different stages," said Kyle Cavanaugh, vice president for administration at Duke. 
In addition to traditional benefits, Duke's offerings include other programs such as tuition assistance for employees and employees' children and discounts for entertainment and services at businesses. 
Four Duke employees share how Duke's benefits make a difference in their lives.  
Soaking Up Time With Newborns
James Todd cuddled his 4-week old son, Simeon, against his chest and watched as his other sons stroked the infant's soft hair. Gazing fondly at the boys, Todd wondered how long it would be before Samuel, 2, and Levi, 3, realized Simeon was part of the family. 
"The addition of a new child is such an emotional moment," Todd said. "I was grateful to be able to take time off to soak it up and not burn through all of my vacation each year."
Todd has taken Duke's paid parental leave to be with his expanding family three times since he joined Duke's Office of News and Communications in 2005. According to a survey by the Society for Human Resource Management, fewer than one in five employers in the U.S. offer men paid time off after the birth of their child. 
Duke's parental leave policy provides three weeks of fully paid leave to employees who first use three weeks of accrued personal/ vacation time at home with a newborn or newly adopted child.
"Each birth has been different," Todd said, "and I've cherished the time with each son."
Choosing Child Care

Jill Foster, left, and her husband, Matt, are seen here on vacation in California with Elijah and Michaela. Photo courtesy of Jill Foster.
Jill Foster, a staff assistant in the Department of Biology, quizzed colleagues and visited seven childcare centers during her search for a day care center for her daughter, Michaela. 
"It's a petrifying decision choosing where to leave a 3-month old," she said. "There are so many options it is hard to know where to start."
Foster narrowed her choices by using the Duke Child Care Partnership (DCCP). Duke partners with the Child Care Services Association to assist Triangle-area child care centers in gaining four- and five-star NC license ratings. The partnership, which started in 2003, now has 41 centers that offer priority placement to children of Duke faculty and staff. 
Foster chose First Presbyterian Day School in Durham, one of the DCCP centers, for Michaela. Three years later, Elijah, her son, joined the day school. 
To make childcare more affordable, Foster enrolls in a Duke Dependent Care Reimbursement Account each year. The account allows her to pay the first $5,000 of childcare expenses with tax-free money, saving the family about $1,500 in taxes. 
"We'll keep using the reimbursement account even when Elijah leaves daycare, because we'll still be paying for camps during school breaks," Foster said. "And once we finish with that benefit, we're looking forward to using Duke's children's tuition benefit to get them through college."
Telecommuting Offers Flexibility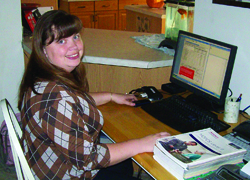 Tempie Fuller telecommutes three days a week from home. Photo courtesy of Tempie Fuller.
Three days a week, Tempie Fuller starts her Duke workday at 6:45 a.m. at a computer workstation in her living room. 
After an hour of work, she logs off her computer and drives her 15-year-old son, Brock, to high school in Oxford. Soon after, she is back in her living room coding medical bills to ensure accurate reimbursement. At 3:30 p.m. she takes a break to pick up her son from school then returns to the computer until 6 p.m. 
Fuller's job duties are a good fit for telecommuting, which may be appropriate for only certain positions. Duke offers formal guidelines to support flexible work arrangements and requires managers to approve and monitor schedules. [For more information about whether telecommuting is right for you, please call (919) 684-2808].
Fuller drives to Duke's Patient Revenue Management Organization office in the Research Triangle Park on Wednesdays and Fridays to attend team meetings and training sessions. Telecommuting the other three days saves her six hours of commute time and $40 in fuel each week.
"When you are only talking to the dogs all day, it can get lonely," Fuller said. "But it's worth it to me to spend more time with Brock."
Treated Like Family
The interview at Duke was the first of five job interviews Kellie Johnson set up when she and her partner decided to move to North Carolina. 

Kellie Johnson, right, with her partner, Laura Miller, while on vacation in Baltimore. Photo courtesy of Kellie Johnson.
During the course of Johnson's conversation with the hiring manager about Duke's comprehensive benefits package, Johnson learned about the same-sex partner benefits. Johnson returned to her hotel and searched the Duke Human Resources website for more information. Duke has extended its benefits package to same-sex partners since 1994.
"My first priority was to find a position in an institution that would be the best fit for me professionally but being able to carry Laura on my health insurance was a big plus," said Johnson, a clinical social work team leader for the Emergency Room and Inpatient Psychiatry.
Johnson's partner now receives health care coverage through her own job. But the couple appreciates other family-friendly benefits such as the financial security of knowing that if Johnson passes away, Duke will treat her partner as a spouse for any survivor benefit. They also have a Duke Fitness Club family membership at Wilson Recreation Center.
"It's nice to be able to exercise together," Johnson said, "but what is really important is to be treated as a family."