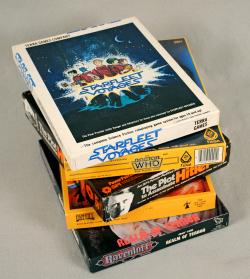 While games encouraging players to take on fictional roles have existed for centuries, the fascinating world of role-playing games, or RPGs, is most commonly associated in the American imagination with Dungeons and Dragons. Using pen and paper, rulebooks, maps, adventure modules, conversation and imagination, RPG players and their "game master" create complex collaborative narratives.
The Edwin and Terry Murray Collection of Role-Playing Games is one of the first collections of such games available at a research institution. The collection contains thousands of boxed game sets from the 1970s to the present, documenting the analog history of a medium that has grown into a worldwide cultural phenomenon via online games such as World of Warcraft and Ultima Online.
A Game Night to celebrate the opening of the collection will be held on Tuesday, Dec. 13, from 7 p.m. to 9 p.m. in the Biddle Rare Book Room at Perkins Library. 
Here, Meghan Lyon and Will Hansen from the David M. Rubenstein Rare Book & Manuscript Library at Duke offer up their Top 5 Interesting Games From the Library Collection That You've Never Heard Of.
1. Boot Hill, 1979: Written by Gary Gygax, the co-creator of Dungeons and Dragons, Boot Hill takes the action out of medieval times and into to the Wild West with players assuming the roles of cowboys, sheriffs, miners and saloon girls. The original game module includes a chart of the "fastest guns that ever lived."
2. Starfleet Voyages, 1982: Early RPG enthusiasts didn't wait around for official games based on popular movies, TV shows and books: instead they created games based on Star Trek, Star Wars, The Lord of the Rings and other franchises, and changed just enough to avoid infringing on trademarks and copyright. This Star Trek knockoff has hand-drawn graphics and carefully avoids using trademarked names, but still includes Starfleet, Vulcan and Klingon characters exploring "strange new worlds." 
3. The Doctor Who Role Playing Game, 1985: Pre-dating the 2005 re-launch of Dr. Who, this game's text and directions suggest it was intended as an introduction to the role-playing game world for fans of the original science fiction television series. Of course, TARDIS the sentient time machine plays a critical role.
4. The Plot to Assassinate Hitler, 1976: Influential and closely related to RPGs are historical simulation games and "wargames," where players assume the roles of historical figures and try to change the course of history. In this 2-person game, players fight over political control of Germany during World War II. The Patriotic Player tries to assassinate Hitler, while the SS Player tries to destroy the Patriotic underground.
5. Ravenloft, 1990: A hot commodity long before the vampire-mania set off by Twilight, Ravenloft first appeared in 1983 but was expanded in 1990 due to its popularity. It encourages players to "add fear to their games" in a classic horror setting, complete with vampires like the villainous Strahd von Zarovich and the mysterious Dark Powers that control the realm.