Fareed Zakaria To Be 2012 Commencement Speaker
The noted journalist will also receive an honorary degree during the commencement cermony May 13, 2012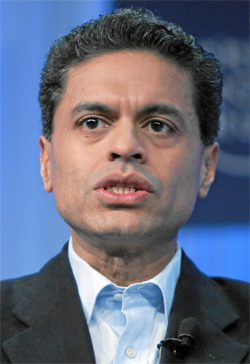 Fareed Zakaria, a CNN anchor, TIME magazine editor-at-large and Washington Post columnist, will deliver Duke University's commencement address on Sunday, May 13, 2012.
Commencement exercises will begin at 10 a.m. at Wallace Wade Stadium and are open to the public. More details are available at http://web.duke.edu/commencement/.
"Fareed Zakaria is one of the foremost analysts of the contemporary globalized world," said Duke President Richard H. Brodhead. "Through his prize-winning journalism and important books, he helps us understand the new freedoms and perils, hopes and fears that are reshaping every modern society, including our own. As a student of the complex world that awaits our graduates, he will be the perfect person to speak at Duke's Commencement."
Since 2008, Zakaria has hosted "Fareed Zakaria GPS," an international and domestic affairs program viewed worldwide on CNN. From 1992-2010, he was managing editor of Foreign Affairs, a journal of international politics and economics. During this period he also worked as an analyst for ABC News, a columnist for Newsweek and an editor of Newsweek International.
He was named editor-at-large at TIME in October 2010. 
Zakaria, who was born in India, has interviewed many of the world's most influential leaders, including the President Barack Obama, Chinese Premier Wen Jiabao, British Prime Minister David Cameron and the Dalai Lama.
His honors include being named to Foreign Policy magazine's list of "Top 100 Global Thinkers," and Newsweek magazine's "Power 50" list of the most influential political figures of 2010.
"Fareed Zakaria's great gift to the U.S. policy debate has been his insistence that Americans need to get over themselves -- that the future world order will be dominated by new emerging powers along with old leaders as China and India take their place at the table," Foreign Policy wrote in naming Zakaria No. 27 in December 2010.
Zakaria is the author of several books, including "The Post-American World" (2008), an updated version, "The Post-American World 2.0" (2011) and "The Future of Freedom" (2003), which has been translated into about 30 languages.
"I think it's a great choice," said Pete Schork, a senior from Wilton, Conn., and president of the Duke Student Government, adding that Zakaria's global perspective makes him the perfect speaker "to send us into the world we live in today."
Toby Ubu, senior class president from Englewood, N.J., said he too was excited to hear "from someone who has experienced how the world is shifting and changing."
Zakaria, who delivered the Ambassador S. Davis Phillips Lecture in Duke's Page Auditorium in 2009, will receive a doctor of humane letters degree during the 2012 commencement ceremony.
Zakaria serves on the boards of Yale University, the Council of Foreign Relations, and the Trilateral Commission, and has received honorary degrees from Brown University, the University of Miami and Oberlin College, among other schools.
He holds a bachelor's degree from Yale and a doctorate in political science from Harvard University.