Veterans Day Ceremony Friday
Duke to honor, thank all who have served and continue to serve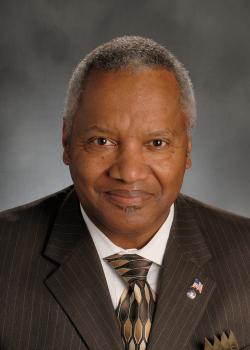 Duke's Veterans Day ceremony will take place at 11 a.m. Friday, Nov. 11, on the lawn outside Duke Chapel.
Read More
Eight cadets and midshipmen from Army, Air Force, and Naval ROTC units at Duke will unfurl their flags and march to the steps of Duke Chapel to formally present the colors as the national anthem is played to begin the ceremony.
"This is our opportunity to take some time from our day to say thank you and to honor those who have served and continue to serve our country so selflessly," said Kyle Cavanaugh, vice president for administration. 
The half-hour event, which is sponsored by Duke Human Resources, will include a welcome by Cavanaugh and remarks by Phail Wynn, Jr., vice president of the Office of Durham and Regional Affairs. Wynn served six years as an officer in the U.S. Army, including a combat tour in Vietnam. He is one of nearly 800 employees at Duke identified as veterans in the Human Resources Management System.
"The Veteran's Day observance has a special and personal meaning for me," said Wynn. "As a Vietnam War veteran, the son of a World War II veteran, and the father of an Iraq War veteran, I have eternal respect and gratitude for all veterans of the past two centuries who have sacrificed being away from home and family, and in some cases made the ultimate sacrifice, to fulfill their patriotic duty to preserve freedom and protect the United States of America." 
Download a flyer for the event.
Update: Duke Athletics has invited over 250 armed forces personnel to Cameron Indoor Stadium to attend the Duke Men's Basketball season opener against Belmont at 9 p.m. on Friday. Guests from the Marine Corp Air
Station Cherry Point, Marine Corp Air Station Cherry Point Single Marine
Outing, Camp Johnson and Camp Lejeune will attend the game free of charge and
join the Cameron Crazies in the student section. Before the game begins, the crowd will participate in a moment of silence to remember all those
who have been lost while defending our freedom.