Students Caught Green Handed, Given Prizes
Two students were randomly awarded prizes for sustainable behavior
Week 4 & 5 Winners - Jenna Lanz & Katya ProsvirkinaJenna Lanz and Katya Prosvirkina were caught recycling and avoiding using a plastic bag, respectively.  Each received an eco-friendly prize in recognition of their sustainable behavior.

Name: Jenna LanzYear: Class of 2015From: Pittsburgh, PennsylvaniaMajor: International Comparative Studies and Pre-MedJenna was caught recycling in her dorm on East Campus and received a reusable water bottle.What is your favorite thing about being an eco-rep? "My favorite thing about being an eco-rep is being able to meet weekly with other people who are passionate about the environment and being able to bounce ideas off of each other and ultimately having the resources to make a difference."Why did you become one?"I heard about eco-reps from another friend who was interested in it and honestly joined out of curiosity because I had never been a part of any sustainable groups before."What projects are you currently working on?"We are working on improving awareness through creating better labels on recycling bins, increasing availability, and creating dorm water bottles to promote reusing and drinking tap water."How else do you try to live sustainably?"I turn off lights when I leave places, don't leave my computer on overnight, and use a reusable water bottle."If you could make one thing more sustainable on campus, what would you choose?"I would install water efficient appliances around campus."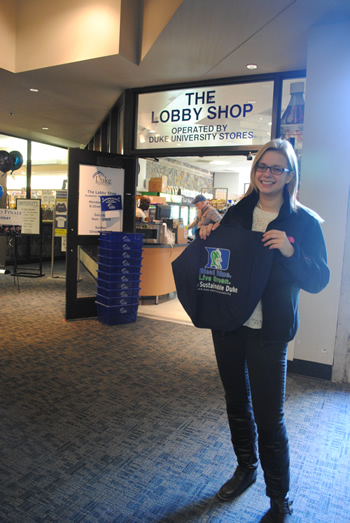 Name: Katya ProsvirkinaYear: Class of 2014Hometown: Jacksonville, FloridaSSL caught Katya carrying her items purchased at the Lobby Shop, rather than wasting a plastic bag. She was given a reusable Sustainable Duke bag.Why didn't you get a bag with your purchase?"I can put the items in my own bag, and I don't like using plastic. At home we always use reusable bags. I guess it's because in Russia, and in other countries, we don't use plastic or paper bags and just throw them away." If you could change one thing about campus to make it more Sustainable, what would it be?"I would want more of campus to be like K-4, where the lights automatically turn off if no one is in the room. In a lot of dorms the lights stay on all the time in the hallways, and I think they should dim at night, or have automatic sensors so the lights can be off when rooms aren't in use."
Will you be caught green handed next? Get Caught Green Handed is an initiative of Students for Sustainable Living created to reward sustainability actions at Duke. Get caught doing something eco-friendly, and receive great prizes including t-shirts, stainless steel water bottles and reusable grocery bags!  It's simple, just take actions throughout the day to reduce your environmental footprint and with a little luck, you could be caught GREEN HANDED! The contest will continue on a twice monthly basis throughout the fall semester.