Rememberer-in-Chief: Say Hello to the New University Archivist
Valerie Gillispie becomes third university archivist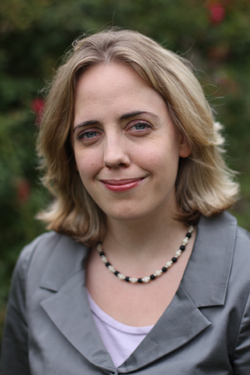 Ever want to see the original
blueprints for Duke Chapel? Or watch a film of the legendary 1938 football team
(the "Iron Dukes") defeat the University of North Carolina 14-0? Or
imagine how snazzy you would look wearing James B. Duke's top-coat? Valerie
Gillispie can show you the genuine article.
Read More
Gillispie is Duke's new university archivist,
the official keeper of Duke history, preserver of university records, and
all-around font of institutional knowledge. She is only the third person to
hold that office, following William King (1972-2002) and Timothy Pyatt
(2002-2011). It's a big job, being the remember-in-chief of all things Duke, but
this native of Fargo, North Dakota, is no stranger to campus.
"I first fell in love with Duke
as a graduate student," Gillispie says. She spent two years working here
in the University Archives as an intern while earning a master's degree in
public history from North Carolina State University and a second master's in
library science from the University of North Carolina at Chapel Hill.
"I spent many hours learning
about Duke's history as I worked with the papers of Alice Mary Baldwin, Edmund
Cameron and the Marine Lab Collection," she says. "I had the sense
each day when I walked in to work that I was entering a special place. So the
opportunity to return as university archivist is a dream come true."
For the last five years, Gillispie has
served as the assistant university archivist at Wesleyan University in
Connecticut, another institution with Methodist roots and a rich academic
history.
The archives holds, among other
things, any administrative, legal, fiscal, and historical records that have
enduring value for the Duke community, going back to the school's 1838 Randolph
County origins. You can also find campus publications, audiovisual materials by
and about Duke University, papers and selected publications of Duke faculty
members, records of student and employee organizations, not to mention theses,
dissertations, final projects and senior honors papers produced by Duke
students. There are even digital records, including websites, video and audio
files, images, and multimedia projects.
The university archivist also participates
in the life of the university, welcoming first-year studentsand returning
alumni, sitting on university committees, leading tours on campus history and
architecture, supporting the university administration, and providing guidance
on records management for offices all over campus.
"I look forward to working with
everyone -- students, faculty, staff, and alumni -- to make sure we're preserving
Duke's unique history," Gillispie says, "Even the history we're
making right now."