Take Five: Staying Safe
Tips to help create a safer environment for students, faculty and staff
Even though October is National Crime Prevention Awareness Month, safety awareness at Duke and elsewhere is an everyday priority for which everyone can help year-round.
In October, the Duke University Police Department will talk to Duke community members about safety during meet-and-greet events like "Tips 'n Treats" and "Coffee with a Cop," in addition to resources like electronics engraving.
Read More
"Crime prevention is about attitudes and behaviors we develop not only for how we prevent a crime from occurring, but how we establish an environment where a criminal doesn't feel comfortable," said Eric Hester, crime prevention officer with the Duke University Police Department. "That's when safety becomes a shared responsibility."
Because criminals choose to take the path of least resistance in crimes, Hester said there are plenty of ways to create an atmosphere of safety. Use these tips to stay safe and protect personal property:
1. Property safety
Most campus crime involves theft of unattended property. When personal property goes missing, Hester said, it's usually a crime of opportunity. Duke community members should stow or secure electronics like laptops and avoid leaving keys in doors or propping exterior doors.
"GPS systems in cars are always easy targets, so never leave things sitting out whether it's a GPS on the dashboard, a laptop in the backseat or even clothing," Hester said. "Keep property locked up and out of sight."
The Duke University Police Department also offers a free engraving service to personally mark and log electronic devices like iPods and computers.
2. Personal safety
A key component of personal safety is to be aware of surroundings. Hester encourages employees to make eye contact with others as they walk around campus. If a crime were to occur, he explained, witnesses can provide a detailed description of what happened and who was involved.
"If you see people in work areas that don't belong or aren't recognizable, don't hesitate to call us and let us investigate," Hester said. Students, staff and faculty should report any threats of violence, stalking or concerning behavior, he said.
Hester suggested programming the Duke Police phone number into cell phones for quick access. The number is (919) 684-2444.
3. Use Duke Vans
Duke provides free transportation from 3 p.m. to 7 a.m. to employees and students in specified service areas where Duke buses aren't available. Transportation is available with a valid DukeCard. 
Rides are provided to and from any Duke campus facility that is open for use at the time of the ride request, by calling (919) 684-2020.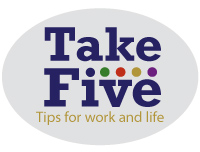 4. Stay informed
Duke community members can get crime statistics and safety information at the Duke University Police Department website. Hester encouraged community members to familiarize themselves with emergency procedures and register their mobile phone number to receive emergency text messages that are sent through the DukeALERT system at emergency.duke.edu.
5. Keep a preventive mindset
Hester said creating a culture of safety and keeping Duke community members safe is about being proactive instead of reactive.
"A lot of times it's as simple as following a gut feeling if something seems wrong," he said. "If there's something you think needs to be checked on or reported, report it."