Unconventional Desk Offers Benefits
Stand-up desks offer some Duke employees advantages in health, work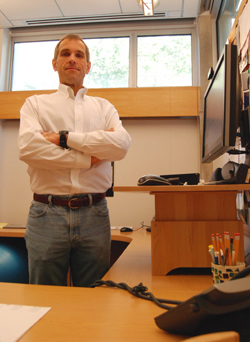 Thomas Jefferson, Winston Churchill and Leonardo da Vinci all had one. So does Joe Shamblin.
When Shamblin arrives at the Levine Science Research Center each day and turns on his computer, he doesn't slide up to his desk in a chair. He takes a step forward. For more than a year, Shamblin has gone chairless, opting for a stand-up desk - something that's been used by some of history's biggest names.
After reading that one of his intellectual heroes, American mathematics and science writer Martin Gardner, used a stand-up desk, Shamblin figured he'd give it a try too. In September 2010, he put in a request for his department to buy a stand-up desk addition that sits on top of his current desk and adjusts for the height of the user.
"About 10 years ago a friend of mine had a heart attack when he was 34, and after that, I started thinking about my health and wanted to be as healthy as possible," said Shamblin, computer lab manager for the Department of Computer Science. 
After dropping about 100 pounds through diet and exercise during the last 10 years, Shamblin said little changes like standing instead of sitting can add up.
"After doing the math," he said, "I'm burning about 200 more calories during the day by standing instead of sitting."
Even if he gets tired, Shamblin is still being proactive about this health. When he feels like he needs to sit down, he uses a large exercise ball that makes him use his core muscles for balance.
In making his decision to switch to a stand-up desk, Shamblin read about studies explaining how sitting too much could hinder a person's health. In 2009, the British Journal of Sports Medicine reported that an average adult spends more than nine hours a day in sedentary activities like sitting in front of a computer. A separate study from Medicine & Science in Sports & Exercise showed that men and women were 54 percent more likely to die of heart attacks if they sat most of the day, even if they exercised regularly.
"When you're sitting in a chair all day, it can be too comfortable and there's a barrier to get up and interact with people," Shamblin said. "If somebody has an issue, I don't mind walking right out of my office."
Shamblin's attitude has spread to his co-workers as well. Seven others in the Department of Computer Science now use stand-up desks, including Jeff Wright, an IT analyst who got his own desk about a month after Shamblin.
"I couldn't think of a reason why we'd be designed to sit all the time," Wright said. "If I'm burning a few extra calories every day and it helps my health, why not do it?"