Robert Greer was Caught Green Handed!
Student Robert Greer was caught biking instead of driving in a car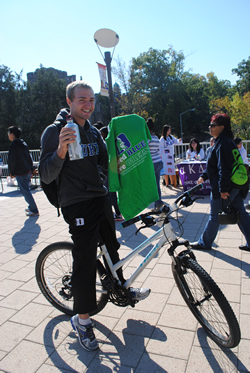 Week 1 Winner - Robert Greer
Year: Class of 2013
Major: Mechanical Engineering
Hometown: Portland, Oregon
Robert Greer, a student in the class of 2013 at Duke, was caught biking on campus and using a reusable water bottle.  The Students for Sustainable Living asked Robert a few questions before awarding him a reusable water bottle and organic t-shirt. What sustainable actions do you take regularly?I bike, use a refillable water bottle, and try to carpool.  I live on central and bike between the campuses, no literally, I bike everywhere. Why do you try to live sustainably?Because it saves money in the long run, and it is pretty easy to do.  I live an athletic lifestyle and like being outside, so biking isn't difficult.  If you could make one thing on campus more sustainable, what would it be?I would like us to use solar thermal energy to heat more of our water. We are already doing it with the new Bryan Center project, and I think we should do it all over campus.Will you be caught green handed next? Get Caught Green Handed is an initiative of Students for Sustainable Living created to reward sustainability actions at
Duke. Get caught doing something eco-friendly, and receive great prizes
including t-shirts, stainless steel water bottles and reusable grocery
bags!  It's simple, just take actions throughout the day to reduce your
environmental footprint and with a little luck, you could be caught
GREEN HANDED! The
contest will continue on a weekly basis throughout the fall semester.