Officers Receive Lifesaving Awards
Three members of Duke Police were recognized in July

Ranell Thompson
The Duke University Police Department recently recognized with three members of the department with lifesaving awards.
Lts. Ron Evans and Ranell Thompson and officer Juan Chirino each received an award in front of their peers during ceremonies July 20 and 21.
Thompson received his award for performing CPR on a fan during the Feb. 20 Duke-Georgia Tech men's basketball game at Cameron Indoor Stadium. During the game, Thompson was alerted to a fan suffering cardiac arrest. After a doctor and nurse started CPR, Thompson took over chest compressions so a nurse could start an IV drip to the fan, who regained consciousness before being transported out of Cameron.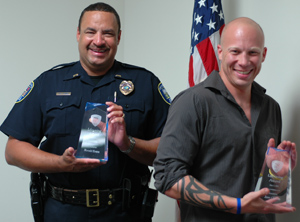 Ron Evans, left, and Juan Chirino
On June 3, Chirino and Evans responded to an unconscious employee at the Fitzpatrick Center for Interdisciplinary Engineering, Medicine and Applied Sciences building. They performed two-man CPR on the employee, who was brought back to life.
"We are proud that these employees responded without hesitation and used their training," said John Dailey, chief of Duke Police. "We emphasize during our training that any employee may be called on to provide emergency lifesaving procedures."