The Team Behind The 'Friendship Games'
Faculty, staff organize aspects of men's basketball trip to China, United Arab Emirates
When the 13 players and six coaches of Duke's men's basketball team touch down in China today, they'll begin a whirlwind tour of local events, sightseeing and basketball.
Back in Durham, about 100 Duke employees will celebrate the completion of months of planning that included many early morning and late night phone calls with partners overseas to pull the trip off after it was announced in February.
Read More
"This is such an historic trip for Duke and Duke's engagement around the world, so it's incredible to finally see all the pieces come together," said Laura Brinn, Duke's director of global communications. "Everyone went into this with the idea that the trip is obviously built around basketball, but it will also help to highlight what it means to embrace Duke's commitment to being a global university and all the students, faculty and staff we have around the world."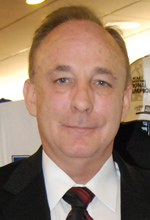 Jim Wilkerson
Duke's "Friendship Games" will see the men's basketball team play four games split among three cities in China and Dubai, United Arab Emirates. But even with the Blue Devils thousands of miles away from Cameron Indoor Stadium, Duke Stores tried to make sure the away games felt very much like home. 
Jim Wilkerson, Duke' director of trademark licensing and stores operations, provided merchandise like the famous blue Cameron Crazies wigs to be worn in China by Duke's Cross Continent MBA students. He also established contract with a manufacturer in China to produce about 15,000 special T-shirts, caps, water bottles and more to be sold at games. Consistent with Duke's commitment to ensure respect for the rights of workers who make Duke logo clothing, Wilkerson worked with the university's primary labor rights monitor to verify that there have been no reported labor violations at any of the factories making the products.
"I had a number of conversations with our manufacturer in China at 11 p.m. or midnight and spent a lot of time with Duke's Office of Counsel to get through legal and financial issues of selling merchandise," Wilkerson said. "It's been a lot of work, but I was impressed with the dedicated effort of people to get everything done."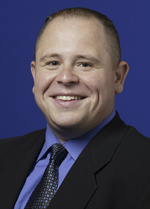 Jose Fonseca
To make sure basketball players are in top shape for the trip, assistant athletic trainer Jose Fonseca was charged with procuring a meal plan for hotels in China and Dubai. Fonseca said that because the trip comes at the beginning of the season, he wanted to make sure players' diets were the same as if the team was home in Durham. That meant securing about 100 cases of Gatorade to keep the Blue Devils hydrated and coordinating normal meals with features like omelet stations for breakfast. Along with head medical team physician Jeff Bytomski, Fonseca also made sure players and coaches received necessary vaccinations for typhoid and Hepatitis A and B and packed two weeks of medical supplies, braces and wraps.
"I basically just packed up our training room in a big trunk, and I'm hauling it over with me," he said.
In addition to basketball, activities organized by the Duke Global Health Institute (DGHI) and a student dance group performance have been planned. DGHI is sponsoring an open practice with the Blue Devils to promote healthy diet and exercise decisions to local Chinese fans. In Dubai, the team will get to experience cultural aspects of the United Arab Emirates, like the holy month of Ramadan.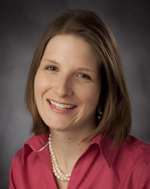 Laura Brinn
"We are excited about bringing the team here to not only showcase their talent but also to build bridges between cultures," said Patricia McCall, regional director for the Middle East and North Africa for the Fuqua School of Business. "Duke is committed to the Middle East and the opportunity to work so closely with various groups within Duke has been a team building effort in itself."
Brinn, Duke's director of global communications, said once the Duke team arrives in China for the first leg of the trip, fans back in Durham can track events online at GoDuke.com and Duke Today. She noted that like the trip, online updates will be part of Duke's efforts to connect students, faculty and staff from around the world.
"It's incredibly exciting to finally see all the pieces come together," Brinn said. "There was a lot of hard work to pull it off."