Class of 2015 Poses for Group Photo
Duke webcasts event live for first time and invites students to 'tag' themselves on Facebook
Parents who said their goodbyes to Duke's newest undergraduates
after dropping them off at campus Monday were able to watch them online Tuesday
evening as they gathered for the university's annual class photo on East
Campus.
Calling the event "one of the most exciting things we
get to do each year," photographer Chris Hildreth took a group shot of nearly
all of the 1724 students in the class assembled against a beautiful sunset,
even as Hurricane Irene approached the North Carolina coast. "I've been
tracking the weather by the hour for the past two days," he admitted.
For the first time, the university shared the event live on
its Ustream web channel,
where it was seen by about 5,000 viewers. Students Jonathan Salzman
and Ashley Alman interviewed the first-year students as they donned white Duke
T-shirts and assembled on the lawn in front of Lilly Library.  Following pep talks from several campus
leaders and coaches, Hildreth snapped away and, a few minutes later, his image
appeared on Duke's Facebook site,
where students could tag their faces.
"This is one of my favorite functions each year,"
said football coach David Cutcliffe, who urged the students to chant "Go
to Hell Carolina!" as he stood beside Hildreth atop a crane. "I love
to see their enthusiasm and their energy. They're forming friendships tonight
that may last for a lifetime."
Steve Nowicki, the evening's host and Duke's dean of
undergraduate education, agreed, calling the evening "a remarkable
experience that creates a visual representation of their first day at Duke. It
gives our students a deep sense of connection, like being in a family."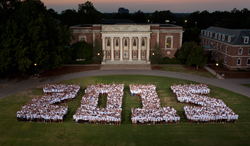 The Class of 2015.  Photo by Duke University Photography
Before the photo shoot, students gathered in small groups on
the lawn with their new classmates and student advisers. A band of Duke
students, Point Break, performed a set of songs despite having what sophomore
drummer Tyler Matte described as only 14 hours of practice since assembling on
campus. The evening, which Student Affairs official Clay Adams called "a
signature event for the class," was "all about making a good first
impression," according to student adviser Arjun Srinivas, a senior from
Gaithersburg, Md.
Jasmine Chiugbu, a new student from New Orleans, stated
simply, "it's good to get us together like this in one spot."
John Danowski, head of the men's lacrosse team, spoke for
all four of the coaches at the event when he told the students: "Embrace
each other and embrace the place. You're going to have a blast."