Traffic/Parking Advisory: East Campus' Memorial Drive
Facilities Management is working to repave the East Campus road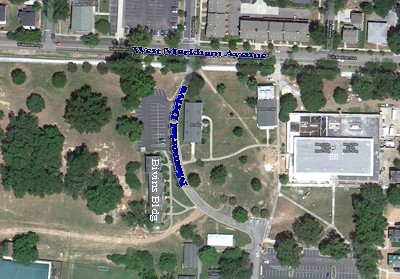 Click here for a larger version of the map
Construction on the northern portion of East Campus will temporarily restrict motorist travel and parking beginning Saturday, July 16.
Duke's Facilities Management will work to repave about 300 feet of Memorial Drive from Markham Avenue to the Bivins Building. Work will run from 7 a.m. to 5:30 p.m. weekdays and Saturdays between July 16 and 23. The road will be closed on Saturday, July 16 and 23. On weekdays, Facilities will have employees directing vehicles through one-lane traffic. During off hours and Sundays, two-way traffic will be allowed.
While the road is closed on July 16 and 23, there will be no access to the Pegram Lot or Red Zone Lot adjacent to the Bivins Building. Parking will be available at the Duke Human Resources building at 705 Broad St., across the road from East Campus.
During construction, Facilities will mill out the road down to the stone base of Memorial Drive and replace portions of existing stone to reinforce the road before replacing asphalt and repaving the road. Portions of the Memorial Drive curb will also be replaced outside the Bivins Building to prevent pooling water.