Farmers Market Friday, Then Schedule Switch
A biweekly schedule starts July 29, no market July 22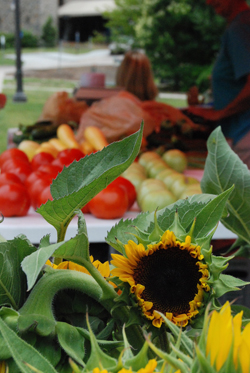 The Duke Farmers Market on Friday, July 15, will be the last chance Duke community members have to buy farm-fresh produce on a weekly basis.
Following its annual season schedule, the market will be 11 a.m. to 2 p. m. every other Friday from July 29 to Sept. 23 . There will be no farmers market on July 22.
This year's market features about a dozen farmers and vendors selling produce and goods such as sweet potatoes, whole grain rolls and flowers. The market also hosts cooking demonstrations and offers free recipes online.
This Friday's demonstration will showcase a balsamic melon salad prepared by Chef Cate Smith and dietitian clinician Christine Tenekjian of the Duke Diet and Fitness Center.
Duke faculty and staff can also sign up for the Duke Mobile Farmers Market, which allows customers to pre-purchase fruits, vegetables, meat and more from vendors and pick them up between 4 and 6 p.m . every Tuesday at the Sarah P. Duke Gardens . Another option is Bella Bean Organics, which works like the mobile farmers market but delivers goods directly to the customer's workplace or home.
Find more information about these healthy-eating options and more at the LIVE FOR LIFE website.