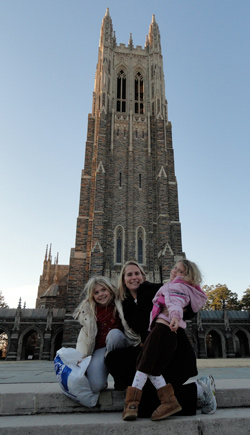 Weary from yet another long and frustrating day on the job hunt, Jennifer Hills plopped down at her computer one recent Friday night and quickly got hooked on a new online game offered up by Duke's Fuqua School of Business.
The virtual Campout, a takeoff of the real campout undertaken each year by Duke graduate students hoping to score coveted men's basketball tickets, instantly grabbed her attention. It re-connected the 1997 graduate of the Fuqua MBA program with her school through a rush of nostalgia and the hope, though slim, of hitting the game's biggest prize: The chance to tag along with the basketball team on its upcoming two-week tour of China and Dubai. 
"I got obsessed with it one Friday night," Hills recounted this week. "I probably spent five hours on it."
Consider that time very well spent. Hills' number came up, her name chosen from 782 participants as the grand prize winner. She and her husband, Mark, will head to China and Dubai next month with Coach Mike Krzyzewski's team on a trip aimed in part at furthering Duke as a global brand.
It's the trip of a lifetime for this Duke-obsessed couple, and its timing is perfect. Jennifer and Mark have each been out of work for months, struggling to find work in a shrinking financial services industry. The Hills live in northern New Jersey, close to Manhattan, where Jennifer worked in investment management before losing her job last year. Mark worked in business planning and development until he was laid off in February.
"This economy is tough, and we've been dealing with a lot of 'what's next?" Jennifer said. "It's a huge pick-me-up."
The Hills are a true Blue Devil couple. Married in Duke Chapel, they routinely attend basketball games when Duke plays in the New York area and return to Durham for football games and alumni events. The couple's two daughters, 4-year-old Caitlin and 9-year-old Cameron -- yes, as in Cameron Indoor Stadium -- are crazies in training as well.
Hills' good fortune caps a frenetic two months at Fuqua, where marketing officials disguised as a "Campout Committee" moved the virtual campout from brainstorm to reality, adjusting it on the fly as it gained popularity. Designed largely as an alumni relations tool, it offered more than 130 "check-ins" for participating Fuqua alums and students. 
The check-in was patterned after the real campout, a longstanding tradition in which graduate students spend 36 hours in tents or RVs, checking in each time a whistle blows in order to remain eligible for season basketball tickets.
In Fuqua's version, participants checked in online by doing anything from simply 'liking' the school on Facebook to volunteering to serve on an admissions committee, mentor a student or take a quiz about the school. Each check-in earned points, and as a participant's points added up, extra entries were added to the prize drawing. Hills, the winner, compiled enough points for six entries in the drawing.
Along with her grand prize, the school offered a series of other prizes including pairs of basketball tickets and a free executive education course. Two participants each amassed a staggering 28 entries. Neither won one of the top lottery prizes, but each will receive a basketball autographed by Coach Mike Krzyzewski for their efforts.
While alums used the game to compete for basketball tickets and razz their old b-school buddies, Fuqua officials were collecting a treasure trove of useful information. While participants could pick and choose most of their game tasks, they all had to update their alumni record, take an exam related to Fuqua's strategic goals, use social media or email to help disseminate Fuqua news and offer feedback to improve the game itself.
Many of the check-ins offered alums the chance to donate resources, like a conference room at their company headquarters that Fuqua admissions officials could use to host an information session rather than rent the space. In all, Campout participants registered more than 11,000 check-ins -- all of which support the school in some way. 
 Of its nearly 16,000 alumni, Fuqua considers about 800 to be consistently active volunteers who serve on committees, speak on campus, help with admissions interviews or play other roles. School officials say the game's success should help broaden that pool considerably.
"We're getting people we didn't already know," said Elizabeth Hogan, '04, the school's assistant dean for marketing. "There are a lot of opportunities to get closer to the school that people weren't even aware of, and now they're raising their hands to get involved in them. And then writing us thank you notes!" 
The Fuqua campout was an example of "gameification," essentially the use of a gaming interface for a more serious purpose. As players become more obsessed with earning points, the school reaped benefits like job postings, contacts at companies, referrals to the school's programs and connections with regional alumni club leaders.
 It leaned heavily on social media, with Fuqua officials prompting discussions among its players on Facebook and Twitter. And though it was played by individuals, a team component emerged as Fuqua tracked players by year and program to show which class -- the Daytime 2009 MBA program, for example -- had the most participation. 
That played into the school's core philosophy of "Team Fuqua," a group concept embedded in the Fuqua experience.
The team component struck a nerve with Liz Helminski, a 2009 Fuqua graduate now working as a strategic quality manager for Nissan in Nashville, Tenn.
"Everything we did was in teams; we took classes with a core group, did all our assignments together," Helminski said. "It's been really interesting to see how many of us connected again through Campout. It brought back so many great memories of business school."
Though the game largely targeted alumni, it was also open to students, an attempt by Fuqua officials to create a new tradition.
"If they all look forward to it as students, it holds on," said Andrea Mohamed '08, the school's director of marketing. "There's a continuity factor -- it's one way you can always connect to the school."