Where In The World Is The Blue Devil?
Flat Blue Devil does some international travel to Dubai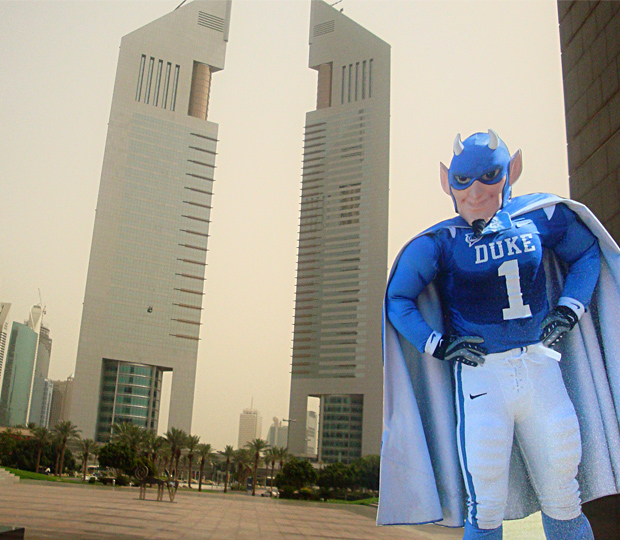 Photo provided by Lana DajaniFlat Blue Devil is soaking up the sun at the Fuqua School of Business' regional office for the Middle East in Dubai, United Arab Emirates. The office is located in the Dubai International Financial Centre, adjacent to the Emirates Towers which is pictured behind Flat Blue Devil. 
Established in 2009, the Middle East regional office is home to three staff members - Patricia McCall, Lana Dajani and Shirley Lozano. The three work to support all of Fuqua's activities in the region, which includes managing program information sessions, alumni gatherings, fostering relationships with companies throughout the Middle East and more.
About the "Flat Blue Devil"
The "Flat Blue Devil" makes appearances to showcase locations, resources, services and events of interest to the Duke community. You may also find Flat Blue Devil making stops at a global destination, or other places that hold importance to the community or history of Duke.
Part of the fun is faculty and staff can take Flat Blue Devil on an adventure - he can go anywhere, as long as there's a strong Duke connection.
Let us know where you'd like to take Flat Blue Devil, and we'll send him your way. Then please send him back to us or pass him to friends and co-workers who can show off more of Flat Blue Devil's journey.