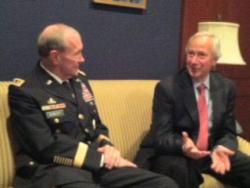 Duke President Richard H.
Brodhead traveled to Washington, D.C., on Tuesday and Wednesday of this week to
discuss university priorities with policymakers, administration officials, alumni,
and other friends of Duke.
Brodhead spent much of his
day on Tuesday speaking with members of the North Carolina delegation and with Duke
alumni currently serving in Congress. The discussions focused on Congressional
issues of particular importance to the university, including continued support
of research funding and of Department of Education student aid programs.
"While I acknowledge the
difficult funding choices facing our representatives, I want to emphasize the impact
of Duke and other colleges and universities on the national economy," said Brodhead
during his trip.  "It is important
for our policymakers to know the role we play in producing a skilled workforce
and developing innovative technologies. We are pursuing the discoveries and
scholarship that will allow us to answer the call to 'out-innovate' and
'out-educate' the rest of the world. 
But it is only by continuing the long-standing partnership with the federal
government that we can continue this important work."
Brodhead also paid a visit
to Army Chief of Staff General Martin Dempsey, who received his master's degree
in English from Duke in 1984, to congratulate him on his recent nomination to
the post of Chairman of the Joint Chiefs of Staff.  During the meeting, President Brodhead and General Dempsey
discussed the importance of Department of Defense-funded research.
Senator Rand Paul (R-KY) speaks to Duke alumni and Congressional staffers during the 2011 DCW Congressional Breakfast.
Brodhead also attended the
Duke Club of Washington's annual DCW Congressional Breakfast.  This year's event, held in the Dirksen
Senate Office Building on Capitol Hill on Wednesday morning, featured remarks
by Duke Medical School alumnus Senator Rand Paul (R-KY) and drew a record
number of Duke alumni living in the Washington area.
Sen. Paul spoke to the
alumni and congressional staff in attendance about his experience watching the
classic 1992 Duke men's basketball win over the University of Kentucky and the
"Beat Duke" bumper sticker of his opponent in the Kentucky Republican Senate
primary. Paul also took the opportunity to explain his position on a few issues
facing Congress and participated in a question and answer session at the end of
his remarks.
Chris Simmons, Duke's associate vice president for
federal relations, accompanied Brodhead during his visit to Washington. "Duke is fortunate that President Brodhead is committed to engaging with
Congress and the Administration on issues vital to the university," Simmons
said.  "It's hard to overemphasize
the impact face-to-face meetings can have when advocating for federal support of
student aid and research."
Simmons added, "Duke is a model of how the
partnership should work between the federal government and higher education,
and D.C. officials want to hear from us. They want to support our faculty and
students in their education and research."