Welcome to the New Normal
University closes $100 million budget gap but financial diligence is vital in years ahead
During the record drought four years ago, the Duke community worked together to cut water consumption by 50 percent. When the drought ended, the good habits continued. Last year, water use was still nearly 200 million gallons less than the year before the drought began.
Duke officials are encouraging faculty and staff to take a similar approach to spending as the university emerges from the worst economy since the Great Depression.
After nearly three years of austere measures and better than anticipated growth in investments, Duke has closed the $100 million budget gap created by investment losses in the endowment in 2008. With spending trends beginning to inch back up, the question remains: will the university be able to live within its means going forward?
Executive Vice President Tallman Trask III said Duke has now returned to a more sustainable budget through a combination of expense reductions from the past several years and investment returns on the university's endowment, which increased 15.6 percent during calendar year 2010. Philanthropic contributions also increased 15 percent to $346 million during the last fiscal year after dropping $85 million the previous year.
Despite these improvements, Trask said financial diligence is vital going forward, especially since traditional methods used to generate capital through investments will not be available for the next two to three years. 

Tallman Trask
"The new reality is we are operating with a budget that is about $60 to $70 million less than what it was before the recession," he said. "We have a lot of things we want to do, and those things cost money. Our ability to take on new strategic opportunities will be limited without outside funding or rearranging the money we already have to spend on other priorities."   
Living within the constraints of a smaller budget may prove challenging based on the latest spending trends. During fiscal year 2009-10, university departments collectively reduced spending by more than $44 million compared to the previous fiscal year. But the trend has been going in the opposite direction for the last three quarters compared to the same periods in the previous year: 
From April to June 2010, spending increased 9 percent, or about $11.1 million.
From July to September 2010, spending jumped 14 percent, or $8.5 million.
From October to December 2010, spending increased 18 percent, or $10.2 million.
"You can only go so long without buying certain things critical to supporting our ongoing operations," said Tim Walsh, vice president for Finance and chair of the analysis group for the Duke Administrative Reform Team (DART). "While our spending is still 12 percent below what it was before the recession, we can't take our foot off the brake completely yet."
Walsh said that further efficiencies and savings opportunities still exist in places such as computer purchasing.
DART introduced a new program in February 2010 to offer volume discounts on computers based on three levels of computer needs. The specifications of the three levels were determined by department and school IT professionals.
The level 1 model was projected to meet the need for about 60 percent of Duke's faculty and staff, with level 2 and level 3 computers designated for more advanced computing needs. The level 1 computer also cost considerably less than level 2, which costs significantly less than level 3.
Based on the first half of the current fiscal year, only about 11 percent of 1,627 computers purchased through the program were for the level 1 model. Because the average cost of a level 1 computer is significantly less, the projected savings being lost annually is $1.2 million.
"Some of the upticks in spending are disturbing," Trask said. "We can't give back all the savings we've taken out of the budget the last couple years."Doing More with LessWhile Duke avoided the type of mass layoffs other institutions faced, working down to a more sustainable budget did not happen without an impact on services. Trask said reductions in the last two years will require "somewhat different expectations about service levels in some areas." 
The impact of doing more with less has created changes in service as vacant positions have been eliminated to help reduce overall expenses. Due to the number of staff members in Grounds who took the early retirement incentive, the maintenance of 626 acres of Duke's campus is less frequent.
Reduced staffing has also affected areas such as Duke's central Human Resources office, where staffing ratios have gone from 189 employees to every one HR staff member to 312 employees to every one HR staff member, meaning fewer HR staff to respond to service needs and requests. 
Kyle Cavanaugh, vice president for Human Resources, said that while staffing has been reduced, demand for services has increased. For example, the number of faculty, staff and dependents covered by Duke's health insurance plans increased by 2,000 this year to 59,000.
"That translates directly to increases in support and customer service transactions," he said. "We also have more regulatory demands with things like national health care reform and a larger employee population with the expansion of the Health System."
Human Resources, like many departments, has sought efficiencies to help balance the increasing demands with quality service.
"We are using technology and self-service options such as the electronic timecard more and more," Cavanaugh said. "We have to balance the personal interaction with customer service to be more efficient and effective. But, like many places, people are working harder."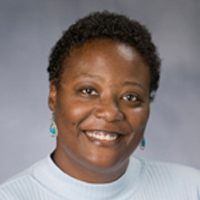 Doris B. Jordan
Count Doris Jordan among them. She recently worked as a program coordinator at the Kenan Institute for Ethics, where she said she was "wearing more hats than the church lady in the amen corner."
After her job was converted to a nine-month appointment, she transferred to a staff assistant position with the Duke Environmental Leadership Program in the Nicholas School of the Environment.
"I think the increased workload is felt particularly in support roles," she said. "In my former role, I was basically working several jobs and working overtime. In addition to my program coordinator role, I did everything from paying bills to scheduling appointments, washing dishes, moving furniture and managing other administrative and financial responsibilities."
John Fay, an instructor at the Nicholas School of the Environment, said increases in enrollment have led to slightly larger class sizes and more work outside the classroom.
"I used to co-teach a class with a colleague who picked up more advising, so I now teach the class solo," he said. "I spend more time during the weekends preparing for lectures and making sure I have things set for classes during the week."
Provost Peter Lange said that while the last couple of years of contraction have created some strain, he is impressed with how faculty and staff have pulled together to address the challenge.
"I think we've done pretty well with morale," he said. "But going through a few years of austerity can shorten people's fuses about other things not directly associated with the austerity itself. And I can understand that. Thankfully, this year we can provide a pay increase to help recognize people, their hard work and the sacrifices they've made."Out of Crisis Comes OpportunityWhile cutbacks have forced people to pick up additional responsibilities, they've also helped spur innovative changes. The Biology department, for example, no longer uses frogs in the physiology lab. The department now uses equipment and software to allow students to conduct physiological assessments on each other such as their heart rates after climbing stairs.
"We made the change for several reasons, including ethical concerns, economics and student interest," said Randy Smith, business manager for the Biology department. "Students are more interested in their own physiological responses than that of frogs."
Smith also cited a transition to centralized printing for a 60 percent cost savings for the department. The department adopted the ePrint system, allowing individuals to send files to a shared printer that only prints after a user swipes his or her DukeCard.
"We found that we were wasting lots of toner and paper," Smith said. "People would print out materials and leave them on the printer or find a mistake and then reprint the materials. Thousands of dollars in paper were being left on the printer each year."
To encourage more people to abandon individual desktop printers, the department agreed to fund the cost for toner and paper for the ePrint stations."This may be one of the few instances where we are giving something away for free and still saving money," Smith said.
Emerging from the RecessionAfter nearly three years of budget reductions, both Trask and Lange said the university now needs to turn its attention to operating effectively and efficiently in the post-recession environment.
"I think we've all learned a lot going through this," Lange said. "We learned what happens when you go down and how to manage that. Now, we have to learn how you start expanding again and do those things well."
That expansion has a different meaning than it did before the recession.
"We're still quite constrained on making long-term financial commitments," Lange said. "Moving ahead, we have to have a little more forethought and self-restraint. Before you take on a new expense, before you decide to do an event, or before you run a new program, you need to be more cautious, more careful, think more about whether you can overlap with existing resources or staffing."
Two years ago when the recession first took hold, Trask said that the development of the budget for fiscal year 2011-12 would be the most challenging - the time when the university had to have the answers for the $100 million shortfall it faced.
"So far that process is going better than I expected," he said after completing budget meetings with administrative departments. "Most areas are coming in at the budget target and a few are coming in under budget."
But he cautioned that continued financial prudence would be needed in the years ahead.
"If you don't need to spend it, don't," Trask said. "If you don't spend it, we'll likely spend it on you."