Bike Lanes Added Near West Campus
The project is part of the city's "Operation Green Light"
The City of Durham is currently resurfacing a portion of Duke University Road and West Chapel Hill Street between Swift Avenue and Kent Street to include bike lanes, a recommendation from the Durham Comprehensive Bicycle Transportation Plan. The new bike lanes on Duke University Road and West Chapel Hill Street  will connect Duke's West Campus to downtown and connect with other bike lanes near the Duke University Road-Cameron Boulevard intersection.
"We've seen a growth of interest in biking between the university and downtown," said Dale McKeel, bicycle and pedestrian coordinator for Durham's Department of Transportation. "Over the last few years, there's been an increasing connection between Duke and Durham, so we wanted to provide a greater access for bikers."Work on the project began the first week of May and is part of the larger "Operation Green Light" initiative by the City of Durham to repave more than 250 miles of streets throughout the city. City residents approved the $37.5 million project in November 2010.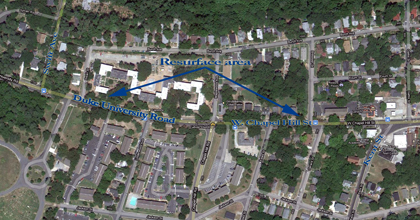 Click map for larger version
"This project represents another great step toward making a key campus-to-downtown corridor much more user-friendly for cyclists," said Alan Dippy, an art technician who rides his bike to work at the Nasher Museum of Art and is a member of the Durham's Bicycle and Pedestrian Advisory Commission. "The addition of bike lanes along this segment will go a long way towards promoting cycling between Duke and the heart of downtown Durham."
Kyle Butler, the Public Works Department project manager overseeing the road work, said that if weather cooperates, the resurfacing could be completed this week, which will allow the city to then begin painting new bike lanes. If weather turns to rain, construction will be delayed because crews aren't able to properly lay down repaving materials, Butler said. This week's forecast calls for scattered or isolated thunderstorms through Thursday.In addition to new bike lanes, on-street parking will also change. Following the completion of the resurfacing, on-street parking will only be allowed on the north side of Duke University Road and West Chapel Hill Street between Kent Street and Swift Avenue. The north side of these streets is the side with West Campus and Swift and Burch avenues.